Shari Barber - Harmony Elementary 2016 Teacher of the Year
ADVERTISEMENT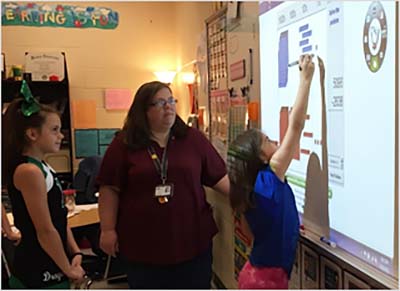 Harmony Elementary School Teacher of the Year Shari Barber utilizing technology in her third grade classroom.
10/15/2015

Last month, teachers from each school in Pickens County selected a Teacher of the Year. Shari Barber, a third grade teacher, was chosen at Harmony Elementary School.

Dr. Lula Mae Perry, Superintendent asked each Teacher of the Year representative to share their teaching philosophy, views on education, and the challenges they face in the classroom.

Teaching Philosophy
"Caring and trust go a long way. My greatest achievements have been when students tell me they know I have cared about their learning or that they feel safe taking risks and challenging themselves in my classroom. This is when I know that I am doing what I am supposed to do, what I am meant to do." ~ Shari Barber

Principal's Quote
"An author named Kid President dedicates a poem to kids and grownups everywhere who are trying to make the world more awesome. I use this poem to describe Ms. Barber's dedication and love for her students."
~ Lynda Wallace, Principal, Harmony Elementary

"Even though the waves are bigger than our boats…
the wind keeps us sailing; its love gives us hope.
Some days it's dark, but we'll keep on rowing,
because people like you whisper, "keep going, keep going, keep going."

View recognition during the Pickens County Board of Education October Meeting.

The Pickens County Teacher of the Year will be selected by a judging committee (made up of educators and business leaders) and announced at an awards ceremony on November 2. The winner will compete for the 2016 Georgia Teacher of the Year.


MORE NEWS ------ BACK TO HARMONY ELEMENTARY (HES)