Auxiliary Unit Enjoys Busy Autumn
ADVERTISEMENT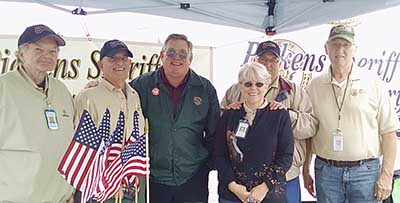 Members with Commissioner Jones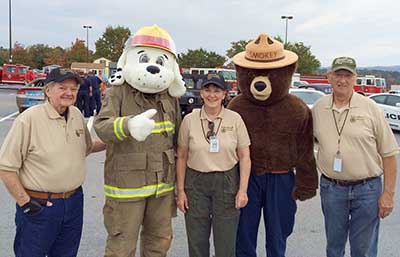 Members with Sparky and Smokey at Public Safety Day


11/1/2015 ~ by PCSO Auxiliary Unit

Everyone knows fall is the busy season in the mountains but did you know it's also a very busy time for the Sheriff's auxiliary unit? It has been a stellar fall for volunteering opportunities and fund-raising for the unit. With oodles of tourists plus festivals the members have been extremely busy making sure to participate in as many activities as possible to raise money for the varying needs of the sheriff's office.

October began slow with a rained-drenched Marble Festival in Jasper October 3 and 4. Nevertheless, the auxiliary members braved the downpour and provided various services for those who were in attendance as well as support for festival vendors. During better weather, members happily provided needed services at Talking Rock's Heritage Days Festival October 17-18 where they shuttled attendees among other things.

Another opportunity for volunteering was also on October 17 where members cooked for participants in the PCSO's Gun Safety Class held at their shooting range. A special thank you is due to Shottenkirk Ford for providing food for the event.

The following Saturday the Auxiliary Unit made their presence known at the Home Depot Public Safety Day by having a booth set up to invite the public to learn more about the unit's duties. They also provided candy, free meals and Wendy's Frosties to the kids.

Should one wonder where the proceeds are dispensed, this month gave the unit two opportunities. The first was the Auxiliary donated to the PSO Law Enforcement Fund to help out with the startup of a new phone messaging system to be used for emergencies and incident communications. In the second, the unit provided support and care baskets to the families of the deputies who were wounded during the recent shooting incident.

The auxiliary unit is a 501(3)C organization. Any donations are tax deductible so we urge you to assist us in helping serve those who serve our community. We also welcome anyone who would like to volunteer to contact us by calling our president, Gary Carson, at the Pickens County Sheriff's Office (706) 253-8900. Inquiries may also be made through our webpage or our Facebook page.


MORE NEWS ------ BACK TO PICKENS SHERIFF'S AUXILIARY UNIT