Ed B's Studio 54 Introduces Artist Allison Naples

Allison gives color to owner Ed Brackin's Metal Art
ADVERTISEMENT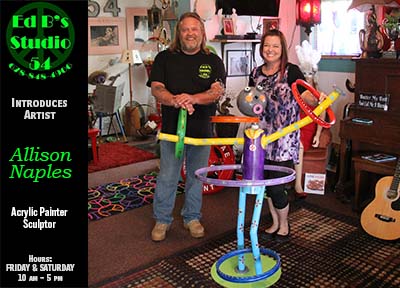 Allison is pictured with Ed Brackin, Ed B's Studio 54 owner, and the Hula Hoop Girl.
Allison gives color to Ed's Metal Art.
4/9/2016

Ed B's Studio 54 introduces Allison Naples, not only an artist and middle school art teacher, but she also held three state Powerlifting records.

Allison has been teaching art in Pickens County for 22 years, and currently the Art Teacher at Jasper Middle School. Her main focus was traditional acrylic painting until she was introduced to Ed Brackin, owner of Studio 54. She gives color to his metal sculptures and now venturing in abstract paintings.

"I was really lucky to be introduced to Ed because his pieces are fun, easy to do, and there a way for me to play around with something that I normally don't get to do. It's a lot of fun to bring his pieces to life. They come to me already active looking and I just have to add a little spark to it."

Already a black belt in Kickboxing, Allison became a Powerlifter along with her husband a few years ago. She held three state records in dead lift, squat and bench for a time until the weight categories changed. She's currently not competing due to an injury. Check out the video below.

Stop by Ed B's Studio 54 and see her paintings and sugar sculls. She's also available for commission work.

Ed B's Studio 54, located at 54 D.B. Carroll Street in Jasper, is open on Fridays and Saturdays from 10 a.m. to 5 p.m. It's not your average art studio!

Visit Ed B's Studio 54 Facebook page for more information.






MORE NEWS ------ BACK TO ED B'S STUDIO 54