Ed B's Studio 54 Introduces Artist Jaci Evans
ADVERTISEMENT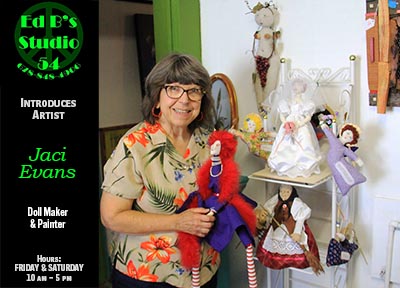 Jaci's holding Red Hat Lady Doll 'Betsy'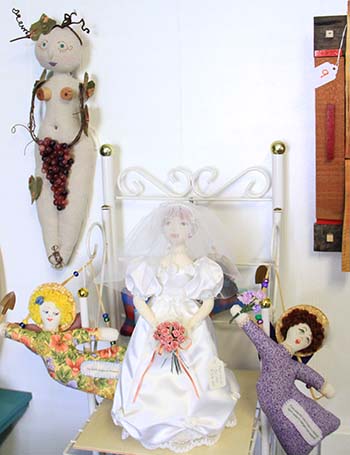 Meditrina Roman Goddess of Wine, Gardening Angels, and Wedding doll made from Jaci's daughter's wedding dress.


6/16/2016

Ed B's Studio 54 introduces doll maker and painter Jaci Evans. Jaci's dolls have been added to the artist co-op in the last three months, but she's been a part of Jasper's art scene for many years.

You may recognize Jaci from her various employment since moving to Jasper in the 80's including Big Canoe, Pickens Community Action, Pickens Chamber of Commerce, and Sharptop Arts Association.

Jaci's dolls are hand made from scrap material using no glue. As a young child, she learned to sew from her grandmother, but only started making dolls in the past 10 years.

Some of Jaci's collection includes a bride stump doll with a dress made from the satin of her daughter's wedding dress, Gardening Angels with different sayings, Meditrina Roman Goddess of Wine, and 'Betsy' a red hat lady made for a friend that passed away before receiving it.

Jaci's sharing some of her space with her husband's wooden turkey calls that are found on the bottom shelf. Stop in to see her collection on Fridays and Saturdays from 10 a.m. to 5 p.m.

Visit Ed B's Studio 54 Facebook page for more information.

It's not your average art studio!


MORE NEWS ------ BACK TO ED B'S STUDIO 54