Hinton Fire Department Purchases Safety Equipment They Hope to Never Use
ADVERTISEMENT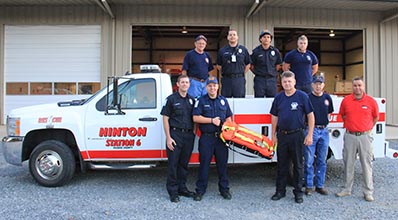 Top Row L-R: Board Member Jack Barnes, Firefighter Carlos Yllescas, Junior Firefighter Jordon Burton, Junior Firefighter Barron Booth

Bottom Row L-R: Lieutenant Brian Costlow, Sergeant Jacob Edwards, Chief Jerry Edwards, Board Member Larry Watson, MES Sales Rep Jeremy Adams
8/26/2016

Hinton Volunteer Fire Department purchased a Rit Pak III from MES (Municipal Emergency Services) from money raised at their annual Fall Festival on the second Saturday in November.

The Rit Pak is used in case there is a firefighter or group of firefighters that are injured or trapped in a building and their air packs are not working or out of air.

This safety equipment cost the department approximately $3,600. Currently, Jasper Fire Dept. has the same pack, and Pickens County Fire has two older models that were donated from another agency.


MORE NEWS ------ BACK TO FIRE DEPARTMENT - HINTON (STATION 6)