Pickens County Fire Stations Providing Thanksgiving To Area Families
ADVERTISEMENT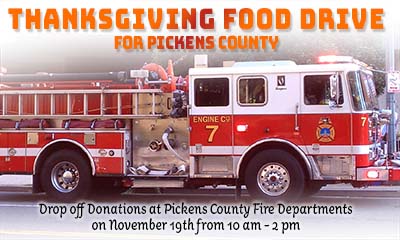 Mike Chester Explains the Cause



11/16/2016

Mike Chester, with Yellow Creek Fire Department Station 9, spearheaded the initiative for every fire station in Pickens County to adopt a family for Thanksgiving.

Since 2013, Mike's BBQ Team 'Napalm Sticks to Pigs' has provided a family with a Thanksgiving meal. Expanding it with the cooperation of all Pickens Fire Departments will allow more families to enjoy a Thanksgiving meal.

A Food Drive for public assistance with this endeavor is on November 19, 2016 from 10 a.m. to 2 p.m. Below is a list of suggested traditional Thanksgiving items to donate:

- Frozen Whole Turkey
- Frozen and canned Vegetables
- Potatoes
- Stuffing
- Packet Gravy
- Cake Mixes
- Flour
- Various Fruit

Donations can be made at any Pickens County Fire Stations as well as Tate Meat Market.

The families will be chosen along with North Georgia Community Action to find those with greatest need.

Mike urges citizens to come together and make this holiday special for some needy folks in our local community! View video to the left by Mike on the cause.










MORE NEWS ------ BACK TO FIRE DEPARTMENT - YELLOW CREEK (STATION 9)