Pickens Dems in Atlanta March
ADVERTISEMENT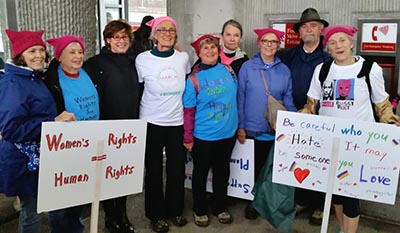 Photo L-R: Lynn Turner, Nancy Davis, Ellen Painter, Jane Lipscomb, Julie Jordan, Irene Barker, Phyllis Hogelin, Gary Hogelin, Sue Justicz (who knitted most of the pink caps) (not pictured, David Robinson)
1/23/2017 ~ by David Robinson, Pickens County Democratic Party Chairman

Pickens County area people joined the Atlanta March for Social Justice and Women on Saturday, 1/21, which was held simultaneously with the Women's March on Washington. Police estimated that 60,000 people marched from the Center for Civil & Human Rights to the Georgia Capitol to hear speakers.

The crowd was too large to be accommodated in the Capitol area, so the streets were filled for some distance away. Marchers ranged from children in strollers and on their parents' shoulders to elders, with teens and young adults appearing to predominate.

Announced goals for the March were reflected in thousands of "Why I March" signs: to display solidarity with and among underrepresented communities, women, and their allies; to promote social justice and equality for all members of the area community; to stand together against intolerance; and to use our collective strength to create a lasting impact by connecting marchers to organizations in our community through this one-time event.

------------------------------------------

The photo and portion of article posted on KnowPickens Facebook page is below. Concerns over the 'p' word on shirt of the lady on the right brought on a discussion.




MORE NEWS ------ BACK TO PICKENS COUNTY DEMOCRATIC PARTY