Optimist Club of Jasper Announces the 2017 PHS STAR Finalists
ADVERTISEMENT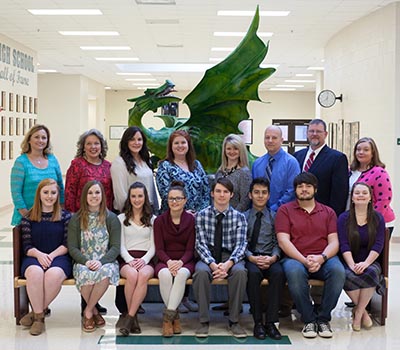 L to R with students seated and their
selected teacher standing behind them:

Kelsey Wise - Gail Culbreth
Mary Zuidema - Cheryl Carter
Laura Henke - Lisa Hardman
Sierra Stanfield - Seanna Thompson
Kyle Combs - Angela Quarles
Roman Tapia - Robbie Cheatham
Michael Jorgensen - Rodney Martin
Danielle O'Dell - Lynn Cantrell
Not pictured - Jackson Melton - Valerie Boehm
2/16/2017

The Optimist Club of Jasper, local sponsor for the STAR Program (Student Teacher Achievement Recognition) is pleased to recognize the 2017 PHS STAR Finalists.

For over 25 years the Optimists have recognized the PHS STAR Student and Teacher along with nine STAR Finalists with the largest and most unique local STAR Banquet in this statewide program. In the local program, the Optimists not only recognize the STAR Student and Teacher, but an additional nine STAR Student and Teacher Finalists.

The 2017 Star Finalists
Student & Teacher

Kyle Combs & Angela Quarles
Laura Henke & Lisa Hardman
Michael Jorgensen & Rodney Martin
Jackson Melton & Valerie Boehm
Danielle O'Dell & Lynn Cantrell
Sierra Stanfield & Seana Thompson
Roman Tapia & Robbie Cheatham
Kelsey Wise & Gail Culbreth
Mary Zuidema & Cheryl Carter

The PAGE (STAR) program, is administered and promoted by the Professional Association of Georgia Educators (PAGE). Since its inception in 1958 the STAR program has honored nearly 26,000 students and the teachers selected as the most influential to their academic achievement. To obtain the STAR nomination, high school seniors must have the highest score on a single test date on the three-part SAT and be in the top ten percent or top ten students of their class based on grade point average.

Each year the Optimist Club ask the STAR Students and Teachers to complete a questionnaire. Responses from all STARS will be in a later edition of the Pickens County Progress.

The Optimist Club of Jasper will recognize the 2017 STAR Finalists and their selected teachers along with the 2017 STAR Student, Jonathan Friedman and his teacher - Mr. Wil Nix, at the annual STAR Banquet on Thursday evening, March 9, 2017. The banquet will be held at
7:00 p.m. at Chattahoochee Technical College, 100 Campus Drive, Jasper, Georgia. Anyone interested in attending the banquet should email the Optimist Club at pickensstar@etcmail.com Reservations are required and tickets are $24.00 per person. The Woodbridge Inn, who has catered the Optimist STAR program since the first banquet, will again cater this year's banquet.

Ms. Carrie McCurdy, the PHS STAR Student in 2000, will be the guest speaker for this year's banquet.

MORE NEWS ------ BACK TO OPTIMIST CLUB OF JASPER