Optimist Club Contest Winners
ADVERTISEMENT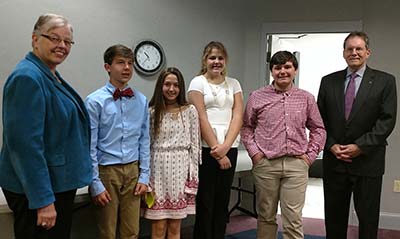 Oratorical winners: Susan White, Club president, Matthew Brady Pittman, Olivia Pierce, June Harmon, Lucas Lastinger, Dave Slade, Project Chair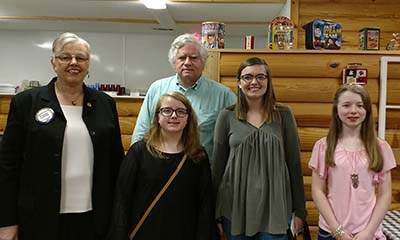 Essay winners: In back, Susan White, Club president and Matt Moore, Project Chair with Mary Forrester, Kelsey Essig and Jasmine Miller.


3/19/2017 ~ by Sue Appleton, Secretary

The Optimist Club of Jasper holds two competitions each year as part of the Optimist International Essay and Oratorical contests. Our club winners then go onto the Zone competition and if successful there go even further!
The Club Oratorical contest was held on Saturday, March 11 at the Pickens County library. Students from Dawson County Middle School competed in the boys and girls round. The topic for 2017 was "What the World Gains from Optimism". Our winners were:

•Girls:
1st Place - Olivia Pierce
2nd place - June Harmon

• Boys:
1st Place - Lucas Lastinger
2nd place - Matthew Brady Pittman

A special thanks to our 3 judges: Matt Bernstein, Don Holt, and Jim Puhger as well as our timekeeper, Robin Bernstein.

The Club Essay Contest winners along with Mrs. DiPuma from Jasper Middle School, Mrs. Walker, Principal of JMS, Dr. Flatt, Principal of Pickens High School, and parents attended our club meeting on Thursday, March 16th, The top 3 essays were read and the winners were given medals and monetary awards. The topic for 2017 was "Chasing Optimism in the Face of Challenges". Our club essay contests winners for 2017 are:

• 1st place
Mary Forrester of Jasper Middle School
• 2nd place
Kelsey Essig of Pickens High School
• 3rd place
Jasmine Miller of Jasper Middle School

Would you like to get involved in your community and help "bring out the best in kids"? Learn more at our club website. Our next meetings are April 6 and April 20 at 7:00 AM. Join us for a great breakfast at The Lunch Box located on North Main Street in Jasper. Guests and new members welcome.



MORE NEWS ------ BACK TO OPTIMIST CLUB OF JASPER