What You Need to Know Before Buying Your First Tractor
ADVERTISEMENT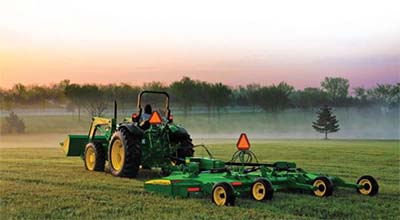 Photo: nelsontractorco.com
8/22/2017 ~ by Will Nelson, President of Nelson Tractor Company

Buying this important piece of machinery for the first time can be daunting. If you don't choose wisely, you risk investing in the wrong tractor.

Luckily, if you do the necessary prep before buying, you're more likely to find the one you need right away. I've broken down some of the most important factors when buying your first tractor.

Make a list of the tasks you need your tractor to do.

Before you go to the dealership, make a list of what your tractor should be able to do. After you've written down all the tasks, write the corresponding pieces of machinery and implements that your tractor will require (e.g. a front loader, rotary cutter, post hole digger, etc.). These details will dictate a variety of factors, including your hitch capacity and horsepower needed—if you can't operate your components, the tractor will be useless.

A three-point hitch allows you the interchangeability of different implements. Note that your three-point hitch will fall into one of three categories, which determines lifting and pulling capacity:

• Category 0: Tractors up to 20 horsepower
• Category 1: Tractors up to 20 to 50 horsepower
• Category 2: Tractors up to 50 to 90 horsepower

The PTO is the drive shaft that provides power to anything you put on your tractor, and you can now find tractors with a mid-mount PTO and rear PTO. The mid-mount allows you to operate implements such as a mid-mount mower or a front-mounted broom.

To save money in the long run, consider whether an "economy PTO" is an option for you. This acts as an overdrive, allowing the engine to spin slower while maintaining necessary RPMs. This reduces fuel consumption and boost efficiency.

Consider the terrain.

The terrain of your land will play an important role in your decision-making. All tractors differ in what they can do, and where they can do it. A hilly terrain will require a tractor with a lower center of gravity to stop it from rolling over.

If you're working in gentle terrain, say planting a field, gardening to clear the crops or baling hay, then you want a tractor with more ground clearance.

Be wary of purchasing used.

While it's no secret that buying used saves money, there are risks to purchasing a pre-owned tractor. Make sure that you see the tractor run if you're considering buying a used machine, and carefully evaluate how it runs when it's 'hot.' Most of the work you'll do with the tractor is when it's "hot," or when it's working to its capacity.

Engine: We typically check the tractor's fluids for moisture in the oil and look for oil residue in the coolant system. You can remove the radiator cap before cranking when the engine is cold to check the coolant for oil. If you see oil or oily residue floating on the top of the coolant, then there may be an internal problem.

With oil, look for any droplets of water on the dipstick—this must be done before the engine cranked. If you see this, it's an indication of internal problems with engine. The rings could be worn out or the block cracked or a head gasket blown. In this case, you'll want to say "thanks" and move on.

Tires: Check out the tractor's tires as well, which is where the most obvious wear and tear will show up. Worn out tires will reduce the efficiency of the tractor, causing slipping and wasted fuel. Check the tread depth first and foremost and compare it against the manufacturers suggested depth to determine how worn down the tires are. Check for tire wear, cuts, the general condition of tires and remaining tread life. Worst-case scenario, the tractor is running fine, you just need to invest in new tires.

Finally, assess and research the tractor's engine. Parts may no longer be made for that particular engine, forcing you to replace it down the line. "A cold engine should pick up speed right away. Black smoke billowing from a diesel on start-up is okay. If it doesn't clear, or if it's anything but black, there's an engine problem," explains Farm Industry News.

Talk to an experienced farmer.

Experience is something that can't be bought, and another opinion is crucial for making sure you get the right machine. An experienced farmer can listen to your needs and give you an honest answer about what tools you need to get your tasks done. They've likely also experienced a variety of brands and types of tractors, and can steer you in the right direction.

Familiarize yourself with the latest safety features.

Every tractor must have basic safety features. These include, but are not limited to: a rollover protection structure (ROPS) and seatbelt, a power take-off shield, which is very important as the power take-off is one of the most dangerous parts of a tractor. A fire extinguisher and first-aid kit are good to have, but of course, don't come with on tractors from the factory.

Make sure the operator presence safety features are working. Which means: the seat safety switch doesn't allow cranking unless you're in the seat; the neutral safety switch won't let you crank the tractor unless it's in neutral; the power takeoff switch prevents you from cranking when in gear.

Ensure that all these safety components are in place and operational, in addition the right PTO and high-quality tires, when choosing your first tractor. Also, don't forget to make sure your implements are sized correctly for your new tractor. A 20 hp tractor won't even pick up a six-foot rotary cutter. The process may take a little preparation and research, but in the end, you'll be the proud owner of your first tractor.


Bio: Will Nelson is the President of Nelson Tractor Company with locations in Blairsville and Jasper, Georgia. Will is a past President of the Southern Equipment Dealer's Association and has been a dedicated board member for more than ten years. Nelson Tractor Company is actively involved in the local community participating in FFA events to support young farmers and coaching local team sports, to name a few.



MORE NEWS ------ BACK TO NELSON TRACTOR COMPANY