Information Forum: Supporting Our Pickens County Schools
ADVERTISEMENT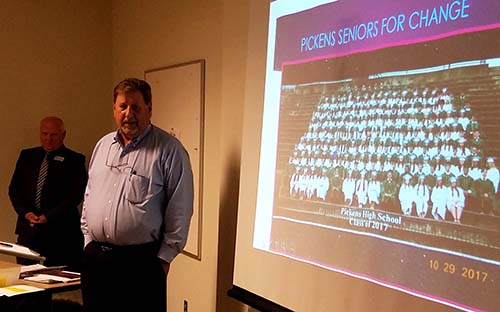 Pickens County Tax Assessor, Roy Dobbs

ADVERTISEMENT


10/30/2017 ~ by David Robinson

The Pickens County Democratic Committee sponsored an Information Forum: Supporting Our Pickens County Schools on Monday, October 30, 2017 at Chattahoochee Technical College.

A group proposes to grant additional exemptions for seniors from the schools portion of property taxes. The forum examined what this means for funding our schools, including shifting the taxes to others such as families with children and businesses.

Speakers were Pickens County Tax Assessor, Roy Dobbs and Pickens County Schools Superintendent, Dr. Carlton Wilson.

______________________________


EDITOR'S NOTE: Pickens Seniors for Change is the group soliciting the school property tax exemption. The Pickens County Republican Party voted in favor of a straw poll to gauge opinion on the subject on the Spring 2018 Primary Republican ballot. Below is a link to the video of a Town Hall Meeting hosted by the group in April.

Video of Pickens Seniors for Change Town Hall Meeting on April 18, 2017.


MORE NEWS ------ BACK TO PICKENS COUNTY DEMOCRATIC PARTY