Pickens Ferst Week Proclaimed
ADVERTISEMENT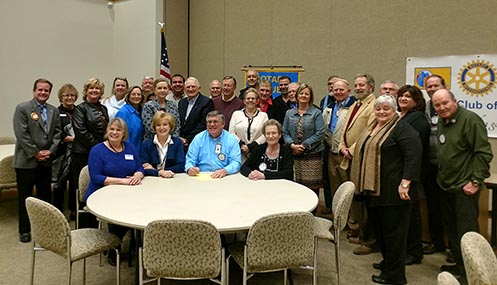 Seated in front left to right: Sue Appleton, Chair of Pickens Ferst Foundation for Childhood Literacy, Becky Denney, County Commissioner, Rob Jones, County Commission Chair and Regina Martin, President of Rotary Club of Jasper surrounded by Rotary Club of Jasper members.
3/23/2018 ~ by Sue Appleton

Each year the first week of Spring is declared as Pickens FERST Week in Pickens County in recognition of the local childhood literacy program. On March 21, Pickens County Commission Chair, Rob Jones, and County Commissioner, Becky Denney signed the proclamation in front of the Rotary Club of Jasper.

Pickens FERST Week Proclamation/2018

Whereas the Ferst Foundation for Childhood Literacy was chartered by the state of Georgia in 1999 as the result of Georgia Citizen, Robin Ferst,

Whereas the Rotary Club of Jasper brought this childhood literacy program to Pickens County in 2009 and shipped their first two books in May of 2009;

Whereas the Pickens County community worked together to grow the program to reach 70-75% of all children under the age of 5 and is 3rd in the state of Georgia in percentage of children reached;

Whereas the 100,000th free age-appropriate book with literacy support materials was mailed in November 2017 to a Pickens County child;

Whereas Ferst Foundation for Childhood Literacy is a 4-star charity and ranked number 4 in the top 10 Reading and Literacy charities in the nation by Charity Navigator;

Whereas research has continually shown that when adults read aloud to children from birth, it promotes increased language development and better understanding of language which leads to literacy success;

Whereas the local Pickens Ferst program is making a difference in our community as our children are more ready to learn when entering kindergarten;

Whereas the Vernal Equinox occurs on March 20, 2018 and marked the first day of spring 2018;

Be it therefore resolved that March 20 through 27, 2018 is proclaimed as PICKENS FERST WEEK throughout the county of Pickens, State of Georgia, and USA.



MORE NEWS ------ BACK TO FERST READERS OF PICKENS COUNTY