Shop Jasper Farmers Market For Mother's Day
ADVERTISEMENT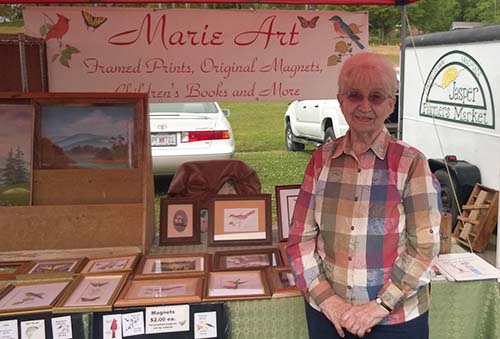 Marie's artwork is a cornerstone of the Farmers Market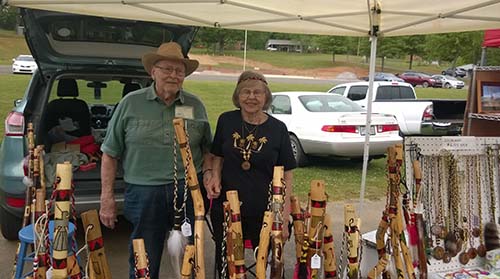 Walking sticks carved by Tom with Donna at his side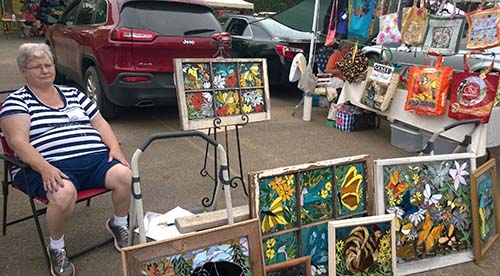 Brenda Romesberg's intricate stained glass windows.


5/10/2018 ~ by Jenny Fellenbaum

May 5th saw the beginning of what we've all been waiting for: warmer, dryer weather and a lot of vendors at the Farmers Market. If you weren't there this week-end, be sure and be there on the 12th, the day before Mother's Day!

So many gift ideas from the artisans who bring their wares:

Marie Pratt was displaying her lovely art, photos and children's books that she writes and illustrates; or perhaps beeswax candles and soaps by Sharon of "Products of the Hive" or "TJD's" beautiful and practical walking sticks with Indian motifs, leather and feather products for a rustic type of gift. Jenny's turned wood items and beautiful floral arrangements would be sure to add to your home décor and certainly please Mom.

The Neals of "Burnt Mountain Cakes and Pies" offer sumptious goodies, including baklava that will make you think you're in Greece. "Two Daughters Bakery's" cupcakes look wonderful and "Jackie's Friendly Baking" continues to delight with her fresh-milled flour and gluten-free products including Ezekiel bread. Another of our bakers, Roxanne of "Roc-Ken Acres" offers farm fresh eggs from free-range chickens in addition to her breads (try the English muffin bread) and homemade jams. "Mrs. Conley's Kitchen" continues to delight with her bakery goodies.

Buy something from all of them—that's what freezers are for! And Mom will love having baked goods she didn't have to make! She'll also appreciate some of Vivian's delicious "Fancy Fruit Sorbets" –enjoy in the market and take some home for the freezer to keep the baked goods company! Vivian will only be in Jasper 'til the end of May, so it's time to stock up.

While you're strolling through, enjoy a coffee from "Red Bean Harvest" to accompany a delicious cookie or cupcake.

James Ledford, woodworker, "Nana the Knitting Lady" and Shadow Creek Woodworks are joined by "Emma's Attic Crafts", darling pillows from Kris Reynolds, "Mountain Man Stuff"- well-crafted and different every time. There are red cedar birdhouses and carpenter bee traps, soy candles from "Cedar Valley Candles". Brenda Romesberg's intricate stained glass windows catch the light.

There are several types of handwork from our artisans and at "Angelina's Garden" you can purchase from a wide variety of hypertufa planters ready for the front porch. And there are always beautiful examples of jewelry to tempt you.

And even though it's early in the season, Zach is back with different types of kale, fresh dill and eggs. Luscious strawberries are available now. The produce will become more abundant as spring progresses to summer.

For answers to your questions about the Farmers Market, sponsored by the Pickens County Master Gardeners, check out pickensmg.org. Next week in honor of Mother's Day, Diane will be back with a presentation, "Texture in the Garden". Join us!



MORE NEWS ------ BACK TO JASPER FARMERS MARKET