Marketable Donations and Volunteers Requested at the Community Thrift Store
ADVERTISEMENT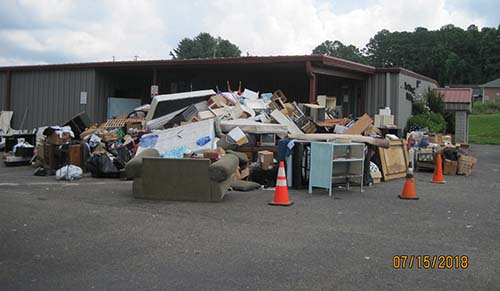 Thrift Store donation center has become a community dump. Picture taken a month ago on July 15, 2018.
8/15/2018 ~ by Don K. Russell

The Community Thrift Store started in January 2000 and has been very successful because of Its business model of operating with only donated items, using only volunteers (no one is paid), selling or giving to some at great prices and returning all profits to the community in forms of grants to non-profits, the total grants is $5.6 million.

This concept operates well with getting usable donations and having adequate volunteers to manage the store. The Store need about 200 volunteers to cover all the work. Most volunteers work during a specific time period while others just show up when they have time. The store needs several new volunteers each month to replace those that are no longer available to volunteer. The motto of the store is "People Helping People".

All items handled by the store are donated. The store can only operate by receiving items that are in condition to sell or donate. Donations continue to be good while the amount of items that are not marketable continues to grow. Our customers will not buy or accept a donation of an item that is dirty, worn out or broken.

Donations are often dropped off at the store when it is closed. The volume of items that are not marketable has grown over the past months which takes a lot of labor to go through and is very costly to have it transported to a land fill.

During June 2018, the store had 142 tons of unsellable items which cost $8,216.85 to pay to have it taken to a land fill. Seven roll-on dumpsters were required on Monday, July 16 to move unsellable items to the landfill. This cost reduces the amount that is available to donate in grants. We will always have some trash but cannot be the community dump. After publishing this article in the Pickens Progress in July, the amount of trash is greatly reduced.

The store appreciates the community support for over 18 years which keeps the store stocked in sellable items and customers that enjoy shopping for bargains. The store needs help in stopping the dumping of trash and in maintaining a strong volunteer workforce.

Call Don Russell at 770-894-3246 to volunteer at the store.






MORE NEWS ------ BACK TO COMMUNITY THRIFT STORE