Planned Unit Development Approved by Jasper Planning Commission

Piedmont Village - a mixed-use multigenerational live, work and play community
ADVERTISEMENT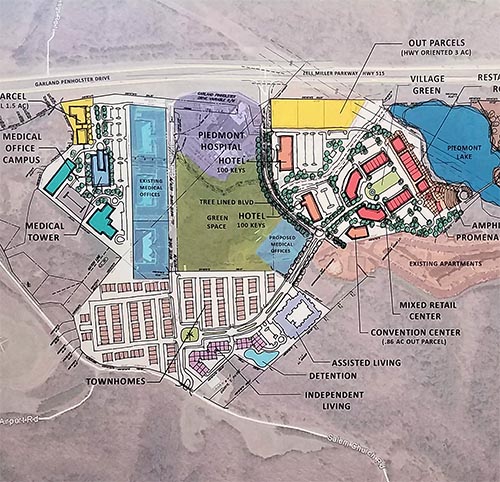 Click here for full version of rendering

ADVERTISEMENT


9/25/2018

AGENDA

I. Call meeting to order
II. Adopt agenda
III. Approve minutes of the August 20, 2018 regular meeting
IV. Old Business
A. None
V. New Business
A. Approval for a Planned Unit Development on parcel 042 012 001. Plans will be available for City Councilís approval at the regular meeting on October 1.

Piedmont Village - Piedmont Village is a mixed-use multigenerational live, work and play community around Piedmont Mountainside Hospital. The heart of it is the Town Square with a central area to have a lakefront restaurant row, retail and salons, as well as an area for an amphitheater and hotels.

Planned area for Senior living with 126 age-restricted (55 and older) townhomes to begin construction by Piedmont Residential out of Woodstock, Georgia before the end of the year upon approval. Phase 2 would be assisted living so that people don't have to go anywhere as needs change.

APPROVED*
1. Sonny Underwood
VI. Adjourn

*3) The authority of the planning commission and planning staff in any zoning decision shall be advisory only. Any zoning decision shall be made by the mayor and council of the city, who shall either approve or disapprove the proposed zoning amendment. Any approval of a proposed zoning decision may be subject to any and all lawful conditions determined by the city council that are attached to the ordinance approving the proposed zoning decision.

(4) If the mayor and council shall take official action defeating a proposed zoning amendment which seeks to rezone property, the same property may not be considered again for rezoning until the expiration of 12 months from the date of the official action of the mayor and council.


MORE NEWS ------ BACK TO CITY OF JASPER