North Georgia Receive the Veterans Bowl Trophy
ADVERTISEMENT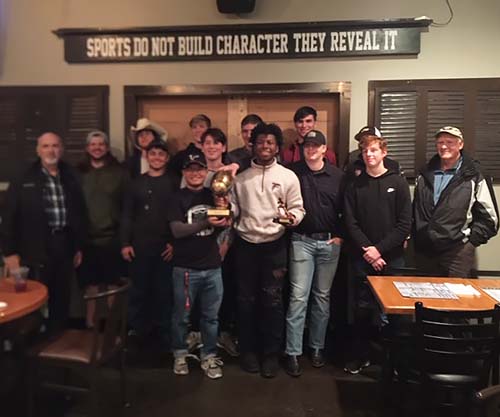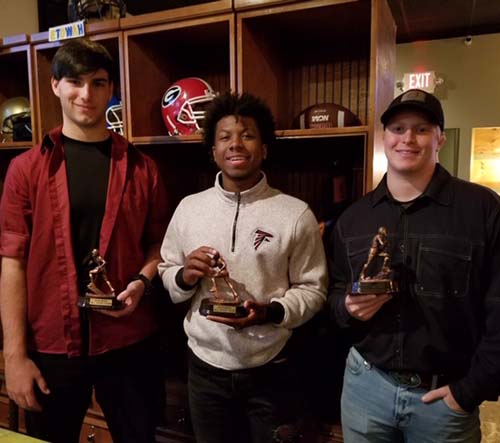 L-R: Junior Ben Harrison, Senior JaRon Davie and Senior Harrison Hardage received 2018 NHFA All Star Team award given to stand out players.


11/29/2018 ~ by Diana McDaniel

Pictured are a few of the North Georgia Falcons football players and coaches receiving the Veterans Bowl game trophy for their November 17th 30-14 win over the Virginia Spartans in the NHFA Bowl game. Senior Harrison Hardage, Senior JaRon Davie and Junior Ben Harrison received 2018 NHFA All Star Team award given to stand out players.

The National Homeschool Football Association and the National High School Football Association for independent teams has hosted homeschool and independent football teams from across the country In Panama City Beach, Florida for end of the season Championship Games and Bowl games for 13 years. Because of the after math of Hurricane Michael, PCB was unable to play host to the tournaments this year. Organizers scoured the region and settled on Lakepointe sports complex for the 2018 NHFA Tournaments.

Lakepoint is equipped with multiple, multi-purpose turf playing fields along with hotel accommodations and restaurants needed for out of state teams. 16 teams descended on Lakepointe on Wednesday, November 14 for the opening Ceremonies. Teams were matched up based on their records in their own states and preliminary games were played on Thursday.

On Saturday, Championship games were played at North Cobb high school, Lakepoint sports complex and Veterans Park in Canton, Georgia. Teams represented this year were from Oklahoma, Kansas, Missouri, Georgia, Ohio, Texas, Maryland, Virginia, Louisiana and Indiana.

Christ Prep from Kansas City beat Landmark Christian 21-0 to win 2018 National Championship.

Under the leadership of Coaches Jordan McDaniel, Mike Turner, Hank St. Denis, Eddie Neighbors and Morris Fox, the Falcon organization is planning for their 2019 season with a 10-game schedule and a good core group of returning players to build upon.

The football team will be guests of Cornerstone Masonry at the Atlanta Falcons's football game on December 16th beginning earlier in the day with endless wings in the Home Depot tail gate area.

Player evaluations begin January 5th. Young men 13 to 18 are eligible to play for the North Georgia Falcons. If you are interested, go to northgafalcons.com for contact information.

Are you tired of pacing the sidelines as someone's backup? Do you want to be recruited at the next level but can't get enough game time to boost your film? Do you want to be more than just another number? Are you ready to get the playing time, individual coaching, and exposure you need to achieve your goals?

If the answer to any of these is "Yes", then its time to Rise Up and Fly-High with the North Georgia Falcons. Not only will your talents be showcased with the Falcons, but our goal is to develop the skill, ability, and leadership qualities young men need to be successful athletes at the next level, and world-changing young men beyond that. With the Falcons, EVERY player counts. EVERY player gets their shot. EVERY player MATTERS.

The North Georgia Falcons are an independent high school football team based in Canton, Ga and offer opportunity to all high-school eligible young men in the surrounding counties and beyond.

The North Georgia Falcons are members of the North Georgia Touchdown Club.



MORE NEWS ------ BACK TO NORTH GEORGIA FALCONS