Optimist Club of Jasper Announces the 2019 PHS STAR Finalists
ADVERTISEMENT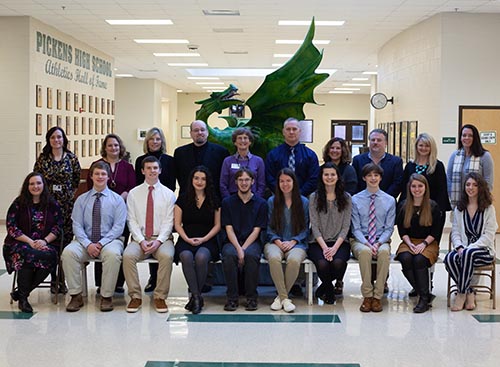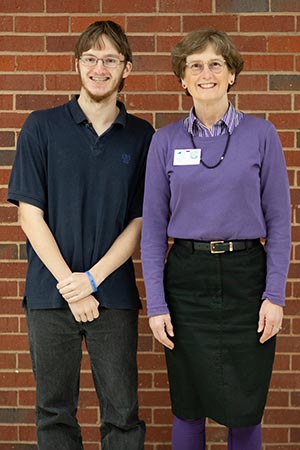 2019 PAGE STAR Student, Dale Smith selected Dr. Kathy Daymude, Math teacher at PHS, as his STAR Teacher.


2/14/2019 ~ by Reeder Burch

The Optimist Club of Jasper, local sponsor for the STAR Program (Student Teacher Achievement Recognition) is pleased to recognize the 2019 PHS STAR Finalists.

For over 30 years the Optimists have recognized the PHS STAR Student and Teacher along with nine STAR Finalists with the largest and most unique local STAR Banquet in this statewide program. In the local program, the Optimists not only recognize the STAR Student and Teacher, but an additional nine STAR Student and Teacher Finalists.

Photo left to right – Students seated/Teachers standing behind them.

Student | Teacher

Katherine Densmore | Kanyon Petti
Tyler Westbrook | Christine Westbrook
Thomas Pinson | Ginger Rizoti
Emily Robinson | Wil Nix
Dale Smith | Kathy Daymude
Bethany Carver | Ted Estes
Rosamary Willis | Christi Hobgood
Miles Gregg | Keith Petty
Olivia Fountain | Angela Quarles
Emma DiPuma | Jolain Brownell

The PAGE (STAR) program, is administered and promoted by the Professional Association of Georgia Educators (PAGE). Since its inception in 1958 the STAR program has honored nearly 26,500 students and the teachers selected as the most influential to their academic achievement. To obtain the STAR nomination, high school seniors must have the highest score on a single test date on the three-part SAT and be in the top ten percent or top ten students of their class based on grade point average.

The Optimist Club of Jasper will recognize the 2019 STAR Finalists and their selected teachers along with the 2019 STAR Student, Dale Smith and his STAR Teacher – Dr. Kathy Daymude, at the annual STAR Banquet on Tuesday evening, March 12, 2019. The banquet will be held at 7:00 p.m. at Chattahoochee Technical College, 100 Campus Drive, Jasper, Georgia.

Anyone interested in attending the banquet should email the Optimist Club at pickensstar@etcmail.com Reservations are required, and tickets are $25.00 per person. The Woodbridge Inn, who has catered the Optimist STAR program since the first banquet, will again cater this year's banquet. Dr. Chaudron Gille, Interim Provost and Vice-President of Academic Affairs for the University of North Georgia, will be the guest speaker for this year's banquet.


MORE NEWS ------ BACK TO OPTIMIST CLUB OF JASPER