Keep Pickens Beautiful 2019 Board of Directors
ADVERTISEMENT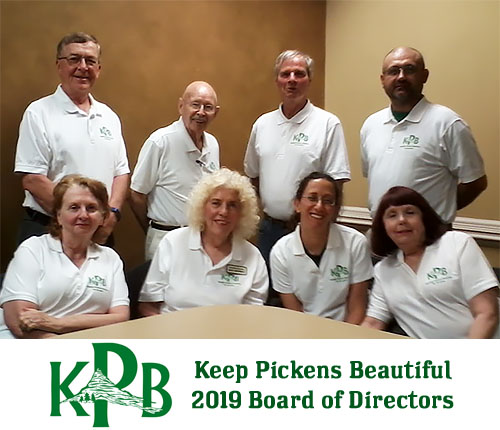 Back row L-R: Bart Connelly, AAR Chairman, Stan Barnett Director, Robert Kenyon (new board member) Robert Morgan, Vice Pres. Joan Britton, Secretary-Treasurer, Mary Ann Rentz, President, Vered Kleinberger, Director, and Jo Leverette (new board member) Levi Rentz, Director not pictured.
5/15/2019 ~ by Carol Opdenhoff

Keep Pickens Beautiful (KPB) is looking forward to another productive year continuing to do projects that enhance the appearance of our beautiful county. KPB is celebrating 30 years of serving our community.

Our outreach includes: Adopt A Road, working with our schools, teaching the 3 Rís - recycling, reduce and reuse, Beautification, Recycling Programs in homes, businesses, our schools and public events.

If you would like to join KPB, contact our Office Manage, Carol Opdenhoff, Tuesday and Thursday from 10:00 - 2:00 at 706-253-3600 and visit our website at keeppickensbeautiful.org. Find us on Facebook.

The community is encouraged and welcome to attend our monthly meeting at the Sheriff Department on Camp Road, the first Monday of the month at 6:30 pm.



MORE NEWS ------ BACK TO KEEP PICKENS BEAUTIFUL