Jasper Lions Club Yearly Awards
ADVERTISEMENT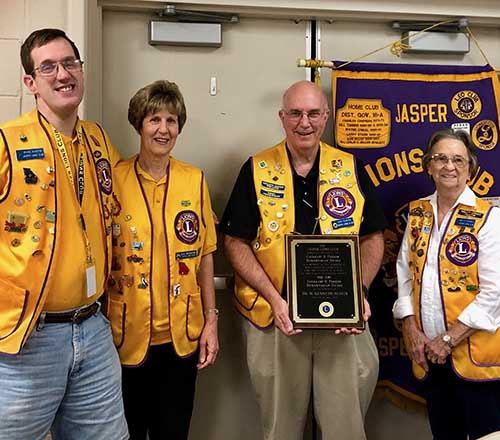 Lions Ryan and Margo Austin are shown with Dr. W. Kenneth Austin, winner of the 2019 Perrow Humanitarian Award. Lion Betty Ferrell presented the award.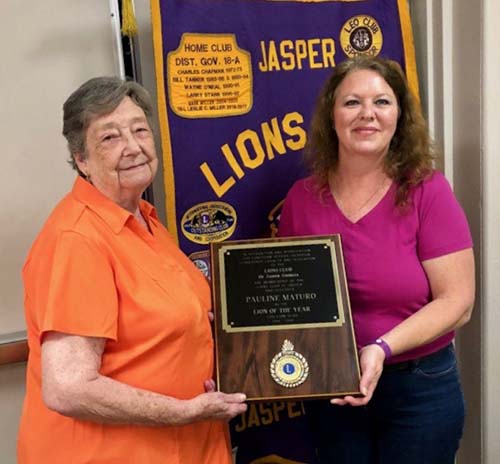 Lion Eloise Lindsey presenting the Lion of the Year Award to Lion Pauline Maturo.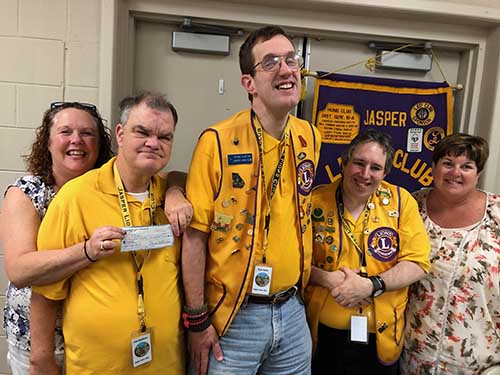 Developmental Disability Ministry House Receives Unexpected Windfall


7/22/2019 ~ by Margo Austin

On July 11th, The Jasper Lions Club handed out their yearly awards. The Perrow Humanitarian Award was given to Dr. W. Kenneth Austin. He is the son-in-law of Dr. G.H. Perrow for whom the award is named. Dr. Perrow was a Family Physician in Pickens County for over 50 years. The award is given to a Pickens County resident who excels in giving time, effort and service to the people of Pickens County just as Dr. Perrow did. The recipient of the award is given $500 to donate to the charity of their choice. Ken has chosen Good Samaritan Health and Wellness Center to receive this.

Dr. Austin opened the first permanent office of Cardiac Disease Specialists in 2004. That office is now part of the Piedmont Heart Institute. An avid pilot, in 2007 he was placed on the newly formed Pickens County Airport Authority. In 2008, Ken became the chairman and continued to serve until 2014. That same year, he retired from his medical practice and became a volunteer physician at Good Samaritan Health and Wellness Center. In 2018, Dr. Austin became the Chief Medical Officer and is still serving in that capacity. Ken is an Aviation Medical Examiner and donates all of the fees he receives for flight physicals to Good Samaritan. He is a member of the First Baptist Church of Jasper where he has served as Trustee.

Dr. Austin served as Lions Club President from 2016-2018 and still serves on the board as Past President. The Jasper Lions Club wishes to congratulate Lion Ken on an award well deserved.

Lion Eloise Lindsey proudly presented the 2019 Lion of the Year Award to Lion Pauline Maturo. She has shown herself to be indispensable to the Jasper Lions Club with her hard work on the Health Fair and especially Fill A Stocking. Nobody can move boxes of toys like Pauline! She is a great example of our motto, "We Serve"! She has recruited her husband Frank and sons Michael and Matthew to assist us many times, which has been a huge help. Congratulations to Pauline from the Jasper Lions Club. This award is well deserved.


IN OTHER NEWS:

One of the 4th of July Jasper Lions Club Raffle winners, donated half of his winnings to the Griffith-Jasper DDM House. Lions President Leslie Miller presented a check to Sherry Oen, Lead Staff Member at the home. Residents Fred Matthews, Ryan Austin and Aaron Bearden are celebrating! These fine men are all Jasper Lions Club members.


MORE NEWS ------ BACK TO JASPER LIONS CLUB