Economic Development Director Hiring Committee Meets at ACC
ADVERTISEMENT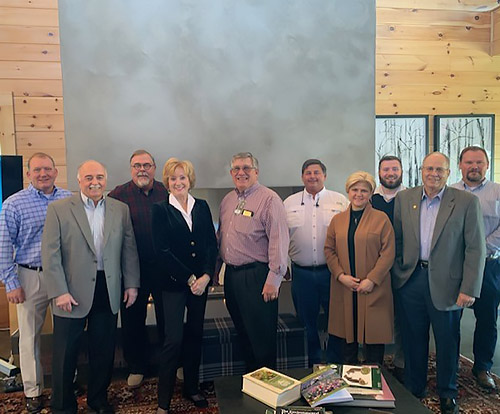 (L-R): Amicalola Electric CEO Todd Payne, consultant Mark Lytle of The Chason Group, Jasper City Councilman and Committee Co-Chair Sonny Proctor, County Commissioner and committee Co-Chair Becky Denney, Board of Commissioners Chairman Rob Jones, Chairman of the Development Authority Don Boggus, Chamber of Commerce President and C.E.O. Amberle Godfrey, Jasper City Councilman Kirk Raffield, Mayor Elect Steve Lawrence and Jasper City Manager Brandon Douglas
12/12/2019 ~ by Becky Denney and Sonny Proctor

On Thursday, December 5th the Economic Development Director Hiring Committee had a called meeting to see a presentation from one of the candidates who is being considered for this exciting new position. The purpose of this position will be to facilitate industrial recruitment and development in our community, and to support existing business in their growth needs.

Georgia leads our nation in economic development, and 70-80% of economic development in our state is in growing existing businesses.

The meeting, held at the Atlantic Coast Conservancy, included special guests Board of Commissioners Chairman Rob Jones and Jasper Mayor Elect Steve Lawrence.

The committee, which is made up of three county and three city members, has been working with The Chason Group of Georgia to find a new executive level economic development director. Once the selection is made, they will begin an economic development strategic plan, also facilitated by The Chason Group. The group hopes to have a decision and an announcement made soon.

This position will be a true partnership between the county, the Pickens County Development Authority, the City of Jasper and the Chamber of Commerce and will bring experience and expertise to this critical role. As a demonstration of this partnership, Jasper City Manager Brandon Douglas was recently elected to the Development Authority.

The funding for the program will be a combination of city and county funds with an intergovernmental agreement, as well as private sector funds, including in kind contributions from the chamber of commerce.


MORE NEWS ------ BACK TO PICKENS COUNTY CHAMBER OF COMMERCE