Tater Patch Players Reopens With One Act Comedy on July 17th
ADVERTISEMENT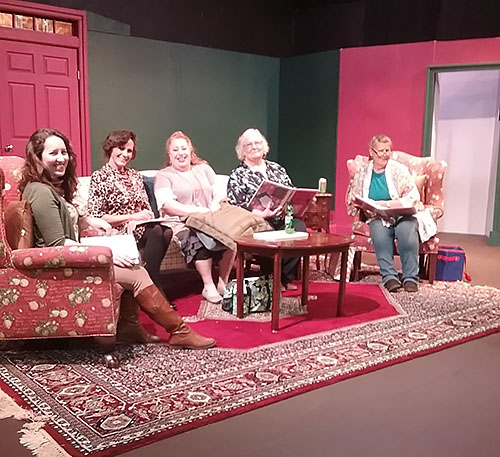 The cast, L-R, Dovie Greene, April Miller, Jennie Smith, Jan Simspon, and Audrey Kirsten, would like to invite you to enjoy their comic characters. Photo by Stanley O'Kelley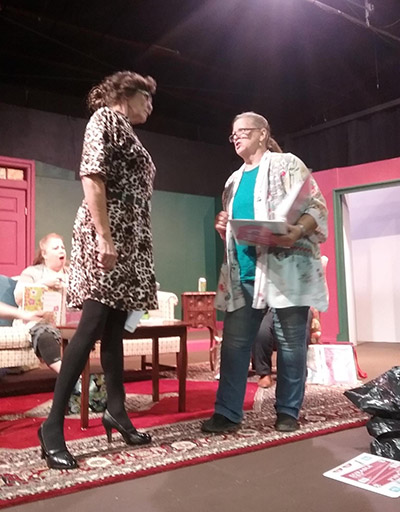 Skipper (L, April Miller) and Corinda (Audrey Kirsten) have a disagreement about the meeting minutes. Photo by Stanley O'Kelley


6/30/2020 ~ by Nan Nawrocki

Rehearsals of Tater Patch Players' next show, The Aurelia Women's League Flower and Garden Show Gala Planning Committee, are moving along under the direction of Stanley O'Kelley.

The cast is a delightful one of five of Tater Patch's best comedy actresses. Audrey Kirsten is playing Corinda, April Miller is playing Skipper, Dovie Greene is Lynette, the hostess of this hilarious meeting, Jennie Smith is Mary Martha and Jan Simpson is Betty Claire.

This show is a one act comedy by Judy Simpson Cook. It bubbles over with great characters and hilarious dialogue. As the title suggest, it's about the meeting of a committee. The five members are as different and as funny as can be. When a bottle of "bubbly" is unexpectedly added to the mix, the results are side-splitting.

We will be presenting this delightful short play on July 17, 18, 19, 24, 25, 26, 31 and August 1, 2. The Sunday shows are at 2 PM and the others at 7:30 PM. The show runs about one hour, with no intermission.

The seating will be general admission (on the theater's new seats!) and tickets will be available on the website (www.taterpatchplayers.org) or on show dates at the door for $10 each for all ages.

We will observe social distancing with our seating and will do everything in our power to make this wonderful evening of entertainment as safe and happy for you as possible.



MORE NEWS ------ BACK TO TATER PATCH PLAYERS THEATER