SVdP Christmas Program for 'Older' Children in Pickens County
ADVERTISEMENT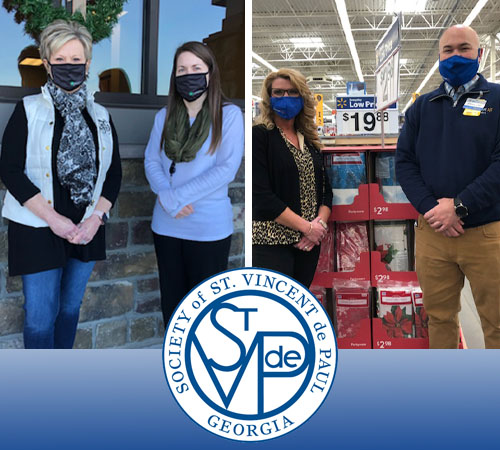 Pictured Left (L-R): Stacey Fields and Megan Jarvis, Amicalola Electric employees who are involved with the 'Round-Up Program'.
Pictured Right (L-R): Stephanie Martin, Human Resource Manager, and Phillip Erwin, Store Manager at Walmart - Jasper location
1/5/2021 ~ by Georgia Dann Neel

Due to the economic impact of the Coronavirus on local businesses and individuals, no solicitations were made this year to help fund the Christmas programs sponsored by St. Vincent de Paul Society (SVdP). Through the very generous donations from Amicalola Electric's "Round-Up Program" and from the Walmart Foundation – Jasper location – SVdP was able to purchase Christmas gifts for 60 "older" children from Pickens County.

The children of the Fathers at Timothy House and some of the children who were eliminated from Pickens County programs due to economic cutbacks received the gifts.

Wish lists were obtained from the parents of the 60 children, and volunteers from SVdP did the shopping. The gifts were distributed to the parents two weeks prior to Christmas.

A special thank you is extended to Walmart – Jasper Location – and to Amicalola's "Round-Up Program", to the SVdP Vincentians who did the shopping, and to Margy Lohman who coordinated the "wish lists" and helped to distribute the gifts.



MORE NEWS ------ BACK TO ST. VINCENT DE PAUL SOCIETY