Pickens County Sportsman Club Donation to 'Shop with the Sheriff'
ADVERTISEMENT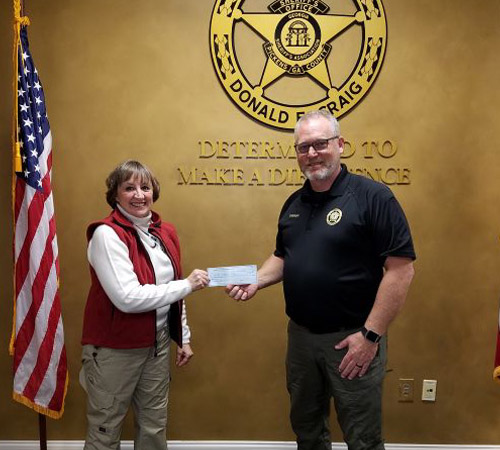 Rosene Ruschman-Benedict from the Pickens County Sportsman's Club presents a donation to Sheriff Donnie Craig.
1/19/2021 ~ by Rosene Ruschman-Benedict, Secretary & Charity Committee member | Pickens County Sportsman's Club

The Pickens County Sportsman Club (PCSC) presented a donation to the charity fund of the Pickens County Georgia Sheriff Office. The donation will benefit the Christmas holiday event 'Shop with the Sheriff' which is a community outreach program where children are paired with the Sheriff's Office and other public safety personnel to shop for Christmas.

The Shop with the Sheriff program serves as one way to foster positive relationships, trust and respect between the community and the public safety members who serve and are a part of the community.

The PCSC also made yearly donations to charitable organizations within the Pickens and Gilmer counties such as Shelter Dogs for Veterans and Kids Kottage. The PCSC also hosts the annual Fishing Rodeo in May. This four-day event gives children with disabilities, nursing home residents and Pickens County families the opportunity to enjoy the beauty and fun of the north Georgia outdoors.



MORE NEWS ------ BACK TO PICKENS COUNTY SPORTSMAN CLUB