Jasper Radio Club Field Day on Saturday

Saturday, June 26 from 2-10pm at Cornerstone Church
ADVERTISEMENT
6/24/2021 ~ by Karen Spradlin

Field Day is ham radio's open house. Every June, more than 40,000 hams throughout North America set up temporary transmitting stations in public places to demonstrate ham radio's science, skill and service to our communities and our nation. It combines public service, emergency preparedness, community outreach, and technical skills all in a single event. Field Day has been an annual event since 1933, and remains the most popular event in ham radio.

This year, the Jasper Radio Club is hosting their Field Day on Saturday, June 26 from 2-10pm at Cornerstone Church, located at 145 Cornerstone Drive in Jasper. Please enter the first building on the property, with the "Amateur Radio Emergency Services" sign near the door. Local hams, wannabe hams, and the curious are welcome to visit, observe, ask questions and actually get on the air!

A special radio station will be setup just for newbies, with a licensed radio operator available to guide you through the process. Additionally, Club members will be making contact with other clubs all around the nation, as far as New York and Hawaii!!

One fun goal is to attempt to make contact with someone in all 50 states. Other activities will include mounting antennas and "shooting" objects through a loop, using an antenna launcher (also known as a potato cannon).

Northwest Georgia is one of the most active regions in the entire southeast, and the Jasper Radio Club is a big part of that, with activities ranging from emergency communications, a weekly social lunch bunch, monthly meetings, simulated emergencies, contests, repeater maintenance, and weekly "nets" on the air.

While a written test is required to join in the fun the other 364 days of the year, many young people (even as young as 9) are full, active members of this worldwide community. There are 3 levels of amateur radio licenses, each requiring a more strenuous test, but rewarded with additional privileges. In fact, a testing session will be hosted by the club earlier that day, starting at 1pm in the church.

Come discover the fun, joy and wonder of the amateur radio world. Get to know your neighbors, both here and around the world!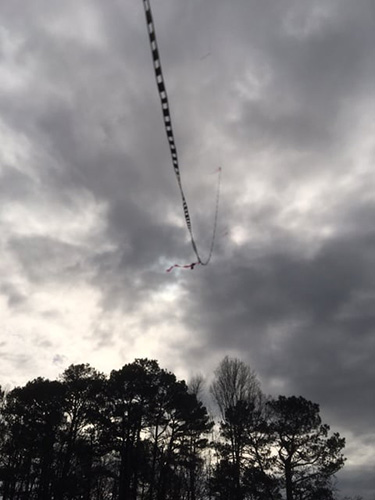 MORE NEWS ------ BACK TO JASPER RADIO CLUB