Jasper Farmers Market Report
ADVERTISEMENT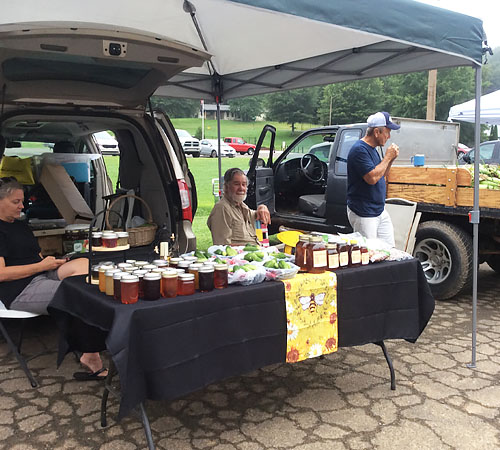 Jackey Cantrell and daughter Wanda at the market selling honey, cucumbers and all sorts of jelly. And next to him was Revere Fowler with a truck load of corn, which sold out quickly!
7/12/2021 ~ by Heather Giambra

And a good time was had by all….despite the rainy start, vendors bravely set up in the early hours and were happily busy throughout the drizzly morning. Master Gardeners had set up their tent to sell homegrown plants and give out gardening advice.

Cupcake masters and bread bakers sold their fresh baked goods to the hungry folk who know how delicious it will be. Zach Henson leads the charge for fresh grown produce. His tables are always full of great veggies! Squash, garlic, and green beans with some other choice vegetables are available at more than one table or tent. (Hint: come back Wednesday, 11- 2, to get some more!)

With all this rain lately, tomatoes that split are good for stewing or sauces. Giant zucchini can be stuffed. The bigger the beans the bigger the pot to cook them all in! With the multitudes of recipes available, we don't let a bite of good food get away.

The Jasper Farmers Market is sponsored by the Pickens County Master Gardeners. Through all the years, we have always appreciated our vendors for coming to our market. Seems we have been gaining new vendors and we are very happy to see new faces among the originals, aka The Classics. The market truly is a fun place to visit and shop, plus, make new connections for business as well as to fill our pantries and plates with good things to eat!

Vegetables, fruits, meats, eggs, snacks and so much more. More includes many talented creative folks and the fruits of their labors. We had new vendors, Rick and Wanda of Frack N Wood with their beautiful wood top tables and eye-catching decorative bottle vases. We hope to see them again, along with our many, new and Classic, vendors.

The JF Market is located in the Park n Ride parking lot at Lee Newton Park across from the Veterans Memorial. We open Saturday mornings at 7:30 and finish by noon. The Summer FM Market is Wednesday between 11 am and 2 pm. Y'all come, or come back, whichever applies to you, our customer. We truly enjoy your Shop Local patronage!



MORE NEWS ------ BACK TO JASPER FARMERS MARKET