Jasper Farmers Market Report
ADVERTISEMENT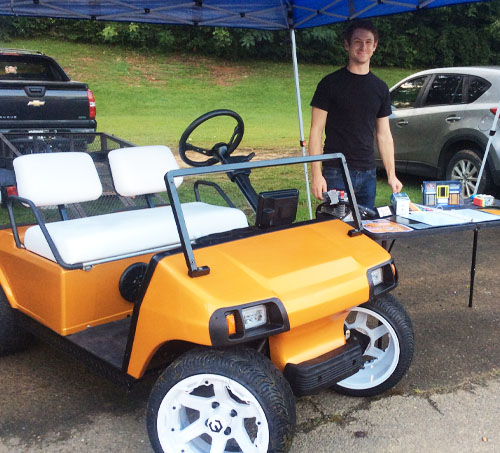 You just never know what you might find on Saturday morning at the Jasper Farmers Market. Fin McRae, Golfin' Garage, with his hand built Sunset Orange golf cart.
7/19/2021 ~ by Heather Giambra

The weather was great for our market. It wasn't so promising in the days before, but thankfully our vendors and customers were dry! It was a full market and the veggies were flowing! Be sure to stop by our Summer market on Wednesday to get the extra squash, beans, and corn. Wednesday market is from 11 am until 2 pm. A great time for the lunch crowd.

If you love seeing the birds in your yard, stop by to see Linn of Linn's Creations. She is a master of recycling and repurposing great finds into hanging bird baths and feeders, plus, making decorative nest boxes. The feeders have screened holes for the rainwater to escape. The bird baths are colorful, have themes, or are whimsical. They will be a great addition to your yard or porch!

Another colorful vendor is Roy Guess of Roy Guess Art. He also is a master of repurposing great finds into wonderful color-full yard art. His unique pieces can also be on the porch or in the home, no two pieces are the same! One customer found a goose to be just right, then gasped when she saw the mushrooms. Yes, each one was different and away they went to their new home!

We have more vendors with repurposed goods, like Rick and Wanda McLean of Frack N Wood, and Stevie Doty of Vortex Studios. We have vendors with meats, bread, eggs, preserves, seasonings, snacks, cakes, and more! We have vendors with woodcrafts from treasure boxes to furniture. We have yarn crafters and sew masters. Jewelry designers and painters of designs, and more. We have vendors with veggies, of course! Now we have some unique items of interest, as well; The American Cuckoo Clock Company by Jodie Davis, and handmade golf carts! Golf carts handmade by Fin McRae. The Base price is 6,500, then go up two levels.You can get battery run or gasoline style. And best of all, customized! Be sure to come see.....

Jasper Farmers Market is located across from the Veterans Memorial at the Park N Ride lot at Lee Newton Park, Saturday mornings from 7:30 am to 12:00 pm, and don't forget Wednesday's Summer market, 11 am until 2 pm. Gotta get the veggies! And some other goodies, too. The market is sponsored by the Pickens County Master Gardeners.





MORE NEWS ------ BACK TO JASPER FARMERS MARKET