Jasper Farmers Market Relocates During Jeepfest

Setup across the street at the parking lot of the Mountain Education building on Saturday, September 4th
ADVERTISEMENT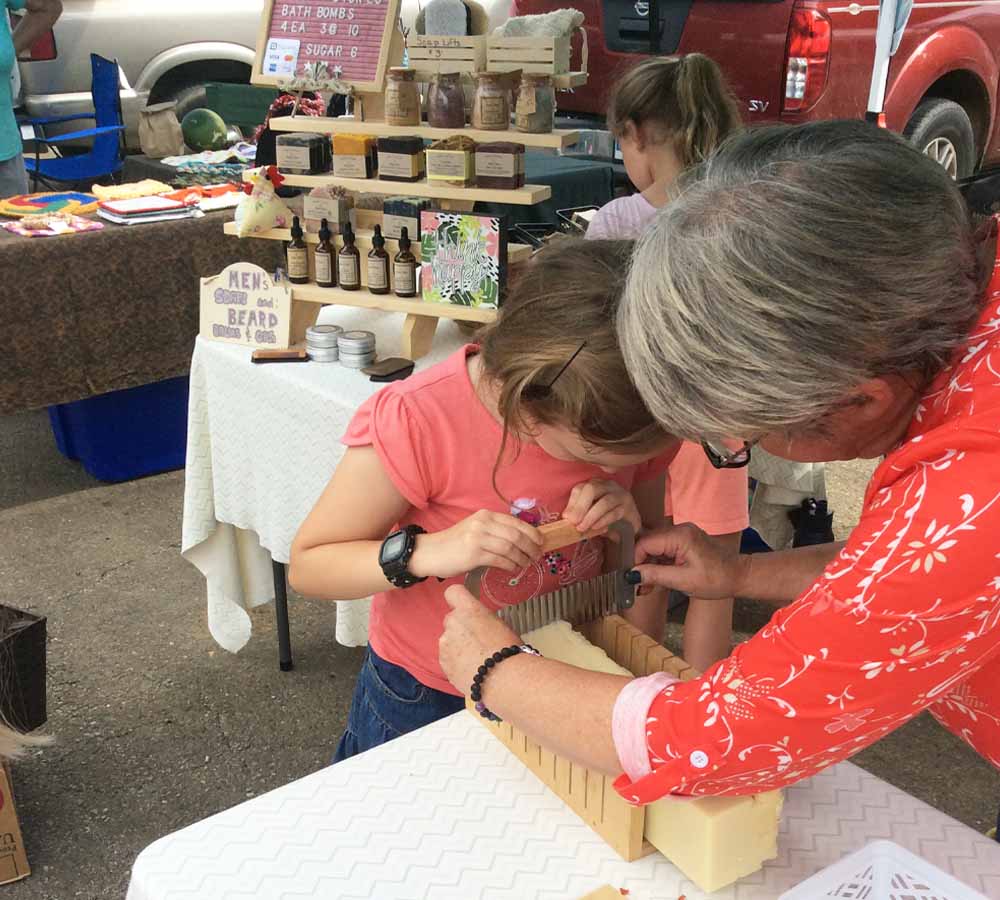 Soap vendor Tracy Chastain taught a group of youngsters how she cuts her soap at the market Saturday. They were very excited to get to try it for themselves!
8/31/2021 ~ by Heather Giambra

A quiet beginning to the Farmers Market as vendors and customers alike were enjoying the calm and somewhat cool morning. The early birds came and went with the corn, potatoes, green beans, tomatoes, garlic, and much more. Clayton and Cole Johnson picked up and left early since their load of corn sold out quick like butter melting on a hot ear!

One customer made a deal for some custom work from Rick and Wanda Mclean of Frack N Wood. A table top on a metal basket with handles will now become a table with storage! So many of our vendors can make you something special for someone special. Bracelets, necklaces, belts, purses, blankets, even paintings. Yes, our market has lots of artists! You can even order pies and cakes from some of our vendors. Chef Tony has a list of goodies he can make. Just ask him, ďWhatís the deal?Ē

New vendor, Judd Berkey of North Georgia Wood-Art brought his locally harvested, handcrafted woodwork, including lamps, which is a new feature for the market. He also does custom orders. Anne Hilbert of Karebears Kreations was also a new vendor at the market. We hope to see these vendors come back, along with a lot of other new vendors because it keeps the market vibrant. Our steadfast vendors are the core of our market and we truly appreciate their dedication. They keep the community together. The Jasper Farmers Market is all about our community and underlines the importance of Shop Local

Pickens County Master Gardeners sponsor the Farmers Market. They serve the community through gardening, whether itís your veggie patch or your farm and fields with information developed by the University of Georgia. The PCMGs often do community projects like advising what plants will work for a site. One example is working with Habitat For Humanity to install landscape plants to beautify the new home and give advice on the plantís care. The MGs will have one more plant tent sale next month on the second Saturday, the 11th. You can stop by and ask gardening questions and pick up a homegrown plant for your garden.

The Jasper Farmers Market is located at Lee Newton Memorial Park at the Park N Ride parking lot across from the Veteranís Memorial. There are a few exceptions like JeepFest. We will be across the street at the parking lot of the Mountain Education building on Saturday, September 4th. You canít miss it!



MORE NEWS ------ BACK TO JASPER FARMERS MARKET