The Joy House Annual Banquet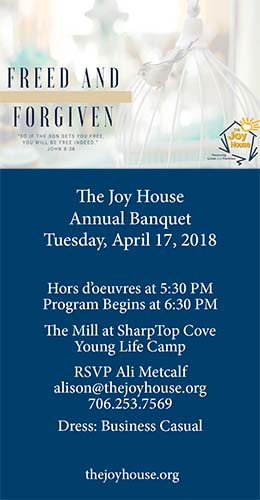 Location:
The Mill at SharpTop Cove
Start Date:
4/17/2018
Start Time:
6:30 PM
End Time:
8:00 PM
Description:
Each year, staff, community leaders and ministry supporters come together to celebrate what the Lord has done and is doing through The Joy House Ministry's Teen Residential and Community Counseling services. Donors and volunteers join together and pledge to press on in the mission for the year to come. You are invited to be our guest or to be a community advocate and host a table of eight. A delicious meal is always served, prepared by the SharpTop Cove staff. Dress is Business Casual. We hope to see you there!
Tickets/Signup:
RSVP to Ali at Alison@thejoyhouse.org or 706-253-7569
There is no cost to attend.