Pickens Ferst Jail n' Bail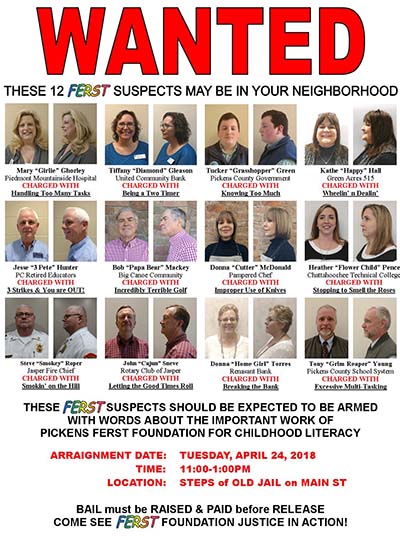 Location:
Old Pickens Jail, Main Street, Jasper, GA
Start Date:
4/24/2018
Start Time:
11:00 AM
End Time:
1:00 PM
Description:
Pickens Ferst Foundation for Childhood Literacy is on the lookout for these 12 suspects to be "arrested" by local law enforcement and brought to the Old Historic Jail on North Main Street on Tuesday, April 24, 2018 beginning at 11 am. The public is invited to attend this fun fundraising event and perhaps even help one or more of the detainees get out of jail.

BOLO

Mary 'Girlie' Ghorley - Piedmont Mountainside Hospital
Charged with: Handling Too Many Tasks

Tiffany 'Diamond' Gleason - United Community Bank
Charged with: Being a Two Timer

Tucker 'Grasshopper' Green - Pickens County Government
Charged with: Knowing Too Much

Kathe 'Happy' Hall - Green Acres 515
Charged with: Wheelin' n Dealing'

Jess '3 Pete' Hunter - PC Retired Educator
Charged with: 3 Strikes & You are OUT!

Bob 'Papa Bear' Mackey - Big Canoe Community
Charged with: Incredibly Terrible Golf

Donna 'Cutter' McDonald - Pampered Chef
Charged with: Improper use of Knives

Heather 'Flower Child' Pence - Chattahoochee Technical College
Charged with: Stopping to Smell the Roses

Steve 'Smokey' Roper - Jasper Fire Chief
Charged with: Smokin' on the Hill

John 'Cajun' Sneve - Rotary Club of Jasper
Charged with: Letting the Good Times Roll

Donna 'Home Girl' Torres - Renasant Bank
Charged with: Breaking the Bank

Tony 'Grim Reaper' Young - Pickens County School System
Charged with: Excessive Multi-Tasking


Would you like to help? Go to www.ferstfoundation.org and click on the Donate Now link. Under Community/County, pick Pickens County. Under Special Occasion, list Jail n Bail and "in honor of" note which detainee that you are supporting. Or you can mail a check to Pickens FERST, PO Box 2062, Jasper, GA 30143 and make the check out to Pickens FERST and note in memo line: name of detainee.