CrossFest 2018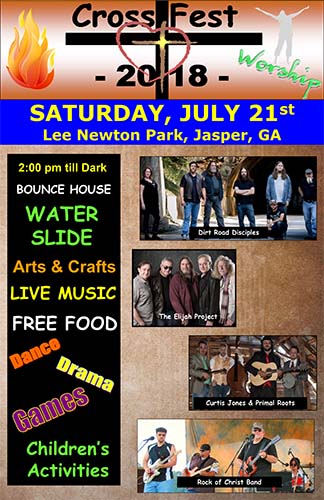 Location:
Lee Newton Park
Start Date:
7/21/2018
Start Time:
2:00 PM
End Time:
9:00 PM
Description:
CROSSFEST is an interdenominational Christian Festival for the whole family. It was created for the sole purpose of providing an end-of-Summer blessing to our families and communities.

Fun for the Whole Family, CROSSFEST will have a Waterslide, Bounce House, and all kinds of Games for Children and Youth. Lots of Community Partners will have booths at this event with giveaways for everyone.

The event will feature Christian bands from all around North Georgia and will also include Free Food for as long as it lasts.

This year, there will be Drama groups, Dance Groups, and Musical Guests from different churches as a special part of this event.
Tickets/Signup:
The event is FREE for everyone.