Veterans Memorial Park Dedication Ceremony (RESCHEDULED)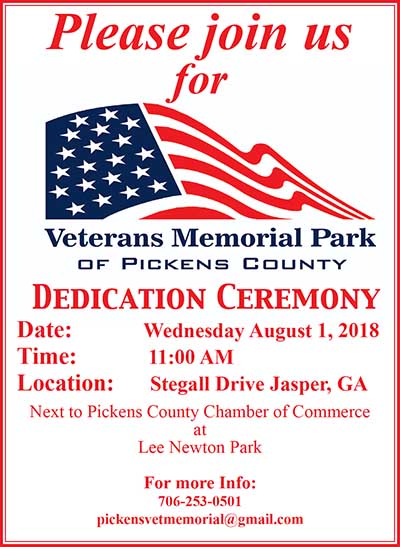 Location:
Lee Newton Park Parking (next to Chamber of Commerce), Stegall Drive, Jasper, GA
Start Date:
8/1/2018
Start Time:
11:00 AM
End Time:
12:00 PM
Description:
UPDATE: Due to heavy rains and severe weather threat, the dedication service has been reschedule to Thursday, August 9, 2018.

Hosted by Pickens County Veterans Memorial Park Association, Inc.

The memorial will inspire a greater sense of patriotism to visitors of the site honoring all men and women of our military. With hopes to develop a deeper appreciation and community awareness of our veterans whose names will be always remembered through the engraved bricks of honor given by those who love them.
Tickets/Signup:
Free Event no tickets. Everyone please attend.