Save Georgia's Hemlock Training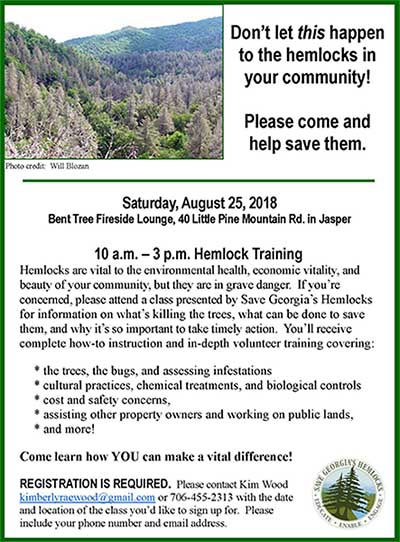 Location:
Bent Tree Fireside Lounge, 40 Little Pine Mountain Road, Jasper, GA
Start Date:
8/25/2018
Start Time:
10:00 AM
End Time:
3:00 PM
Description:
Hemlocks are vital to the environmental health, economic vitality, and beauty of your community, but they are in grave danger.

Save Georgia's Hemlocks if presenting a class on what's killing the trees, what can be done to save them, and why it's important to take timely action. You'll receive complete how-to instruction and in-depth volunteer training.


Tickets/Signup:
Come learn how you can make a vital difference.

Registration is required to Kim Wood kimberlyraewood@gmail.com or 706-455-2513.