Meet the Dragons Night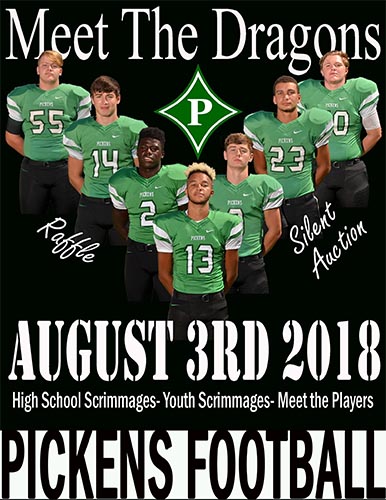 Location:
Pickens High School Stadium
Start Date:
8/3/2018
Start Time:
5:00 PM
End Time:
8:00 PM
Description:
There will be food, fun and you can see ALL Dragons K-12th grade!

Plenty of our sponsors and local businesses will be a part of this event!

Everyone is welcome to watch the varsity, sub-varsity, and jr. high scrimmages that occur from 3:30-5:30.

3:30-4:30 - High School Scrimmage
4:30-5:30 - Jr. High Scrimmage
5:30-6:00 - 6u can scrimmage 7u in controlled scrimmage
6:00-6:30 - 8u can scrimmage 9u in controlled scrimmage
6:30-7:00 - 10u can scrimmage 11u in controlled scrimmage
7:00-8:00 - Meet the Dragons - announce all teams - we will announce teams individually and do a few different things that will be fun.


Tickets/Signup:
We will have a lot of prizes in the raffle so plan on coming out!