Veterans Memorial Park Dedication Ceremony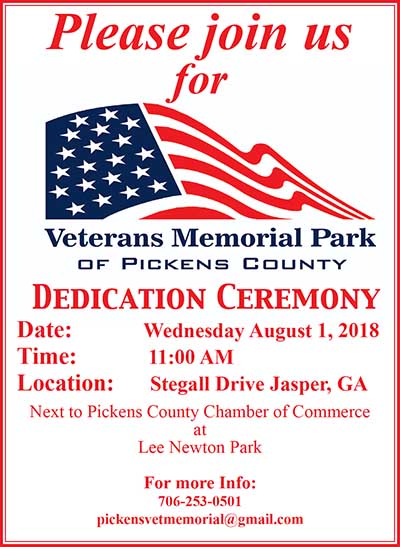 Location:
Lee Newton Park Parking (next to Chamber of Commerce), Stegall Drive, Jasper, GA
Start Date:
8/9/2018
Start Time:
11:00 AM
End Time:
12:00 PM
Description:
Rescheduled from August 1st due to heavy rain and severe weather threat.

Hosted by Pickens County Veterans Memorial Park Association, Inc.

The memorial will inspire a greater sense of patriotism to visitors of the site honoring all men and women of our military. With hopes to develop a deeper appreciation and community awareness of our veterans whose names will be always remembered through the engraved bricks of honor given by those who love them.
Tickets/Signup:
Free Event no tickets. Everyone please attend.