Drive-Thru Flu Shot Clinic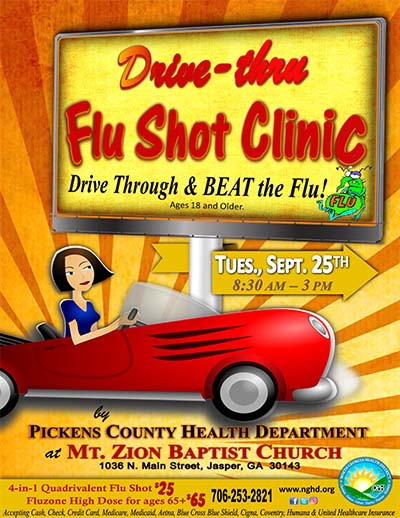 Location:
Mt. Zion Baptist Church, 1036 North Main Street, Jasper.
Start Date:
9/25/2018
Start Time:
8:30 AM
End Time:
3:00 PM
Description:
Just roll in, roll up a sleeve and get the shot that will protect you all flu season, while seated in your vehicle.

4-in-1 Quadrivalent Flu Shots will be $25 and Fluzone High Dose Flu Shots for people 65 and older will be $65.

Cash, checks, credit cards, Medicare, Medicaid, Aetna, Blue Cross Blue Shield, Cigna, Coventry, Humana and United Healthcare Insurance will be accepted.
Tickets/Signup:
Call (706) 253-2821 for more information.