Flapjack 5K Run & Shortstack Fun Run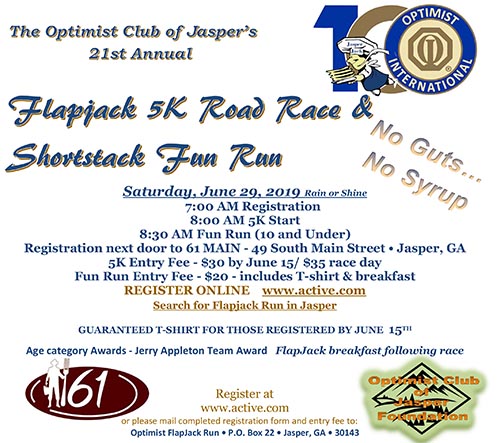 Location:
Downtown Jasper South Main Street
Start Date:
6/29/2019
Start Time:
8:00 AM
End Time:
10:00 AM
Description:
Annual 5K Run in downtown Jasper followed by flapjack breakfast provided by 61 Main. Great tee shirts! Registration at the 4-way stop on South Main Street in downtown Jasper.

Pre-registration costs $30.00 and day of race registration $35.00

Registration at 7:00 AM and Race at 8:00 AM

Sign-up on line at www.active.com or contact Sue Appleton at jsappleton@windstream.net for a registration form.