Pickens Health Fair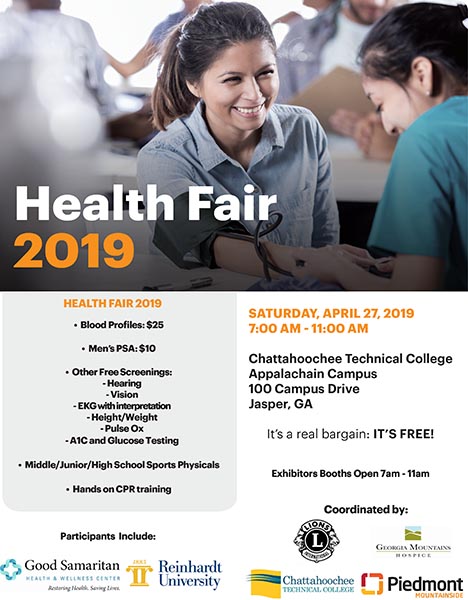 Location:
Chattahoochee Technical College, 100 Campus Drive,Jasper, GA
Start Date:
4/27/2019
Start Time:
7:00 AM
End Time:
11:00 AM
Description:
FREE Screenings include: Hearing, Vision, EKG with interpretation, height/weight, Pulse Ox, A1C and Glucose Testing

Blood Profiles: $25

Men's PSA: $10

Hands on CPR Training

FREE Middle/Junior/High School Sports Physicals good for the entire 2019-20 school year. ALL athletes must have an annual physical to participate in athletics. Complete Paperwork @ https://forms.gle/T38smrSATJs3dKcC9

Exhibitors Booths Open from 7 am to 11 am

Breakfast provided by Georgia Mountains Hospice

Participants include: Good Samaritan Health & Wellness, Reinhardt University, Chattahoochee Technical College and Piedmont Mountainside Hospital
Tickets/Signup:
It's a bargain: IT'S FREE!