PACA Annual Meeting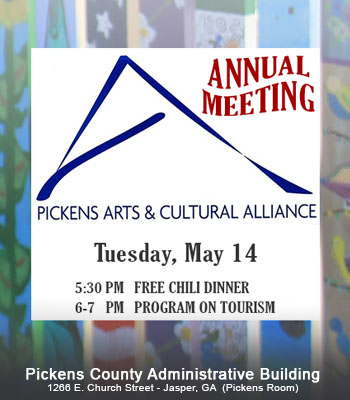 Location:
Pickens County Administrative Building, (Pickens Room - lower level), 1266 E Church St, Jasper, Georgia 30143
Start Date:
5/14/2019
Start Time:
5:30 PM
Description:
The Pickens Arts and Cultural Alliance (PACA) Annual Meeting is Tuesday, May 14th starting with a free chili dinner at 5:30 pm.

The program will be from 6 PM to 7PM and will feature a presentation by Kay Lawrence, co-chairman of the Pickens County Chamber of Commerce tourism committee.

Awards for excellence will be presented to groups and individuals who have had significant impact through arts and cultural endeavors.
Tickets/Signup:
You donít need to be a PACA member to attend Ė itís for everyone!