Pop-Up COVID-19 Testing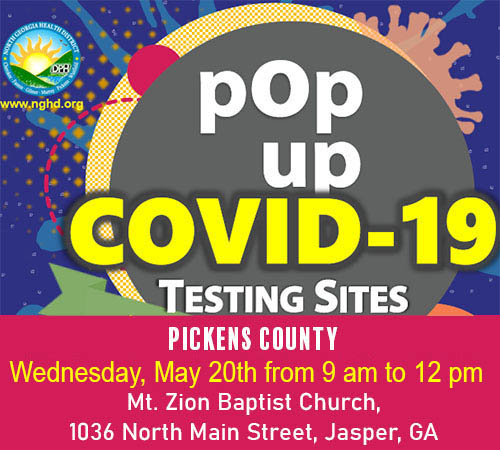 Location:
Mt. Zion Baptist Church, 1036 North Main Street, Jasper, GA 30143
Start Date:
5/20/2020
Start Time:
9:00 AM
End Time:
12:00 PM
Description:
Public health COVID-19 testing is FREE; however, anyone wanting to be tested at these sites must first call to register and arrange an appointment at 1-888-881-1474.

Pickens County time and location for the Pop-Up COVID-19 Testing:

Wednesday, May 20th
9 AM – 12 PM
Mt. Zion Baptist Church
1036 North Main Street
Jasper, GA 30143

All Georgians can be tested now for COVID-19; however, health officials in North Georgia especially urge these groups to access this free service:

• Anyone who has COVID-19 symptoms, such as:

- Fever
- Felt feverish
- Runny nose
- Cough
- Muscle aches
- Chills
- Sore throat
- Nausea or vomiting
- Abdominal pain
- Loss of taste
- Loss of smell
- Headache
- Shortness of breath
- Diarrhea
- Other

• Anyone who is one of the following, regardless of symptoms:

- Health care worker
- First responder
- Law enforcement officer
- Resident or worker in a long-term care facility
- Resident or worker in a congregate setting
- Critical infrastructure employee, such as a grocery store worker
 
Tickets/Signup:
More information about COVID-19 and testing in Georgia can be found at bit.ly/COVID-Updates-NorthGA.