Have a Heart Raffle for Heartworm Positive Homeless Pets ❤️🐾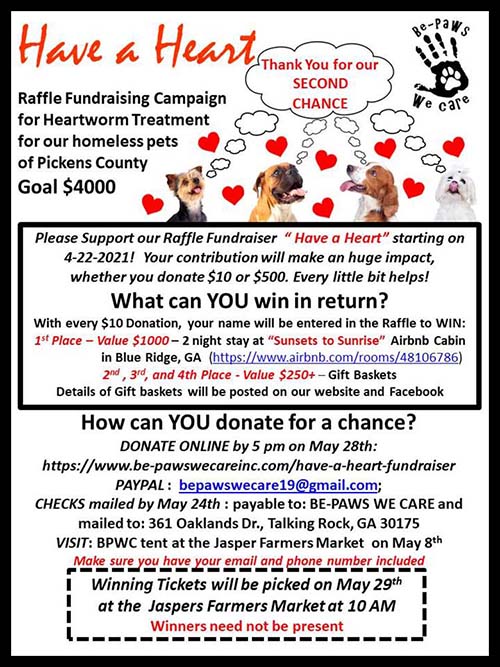 Location:
Online
Start Date:
4/22/2021
End Date:
5/28/2021
Description:
Be-Paws We Care's "Have a Heart" Fundraiser is for the homeless, heartworm positive pets in Pickens County.

The goal is to raise $4,000 in donations that will specifically pay for urgently needed heartworm treatment. The cost of treatment for each dog can be $250-$500 and many dogs go without treatment for this fatal disease due to the expense.

With every $10 Donation, your name will be entered in the Raffle to WIN:

1st Place - 2 night stay at "Sunsets to Sunrise" Airbnb Cabin In Blue Ridge (value $1,000)

2nd, 3rd & 4th Place: Gift Baskets valued at $250

Donate online by 5 pm on May 28, 2021.

PAYPAL: bepawswecare19@gmail.com

Checks mailed by May 24th:
BE-PAWS WE CARE
361 Oaklands Drive
Talking Rock, GA 30175

Winning tickets will be picked on May 29th at the Jasper Farmers Market at 10 am.