PETOBERFEST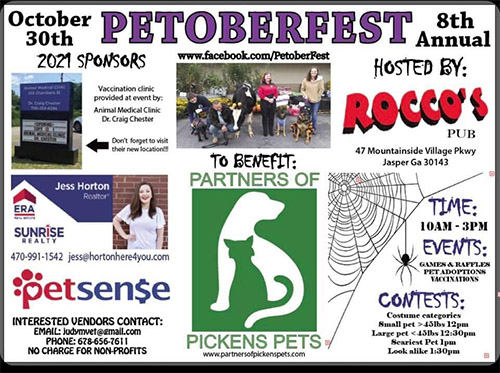 Location:
Next to Rocco's Pub, 47 Mountainside Village Pkwy, Jasper Georgia
Start Date:
10/30/2021
Start Time:
10:00 AM
End Date:
10/31/2021
End Time:
3:00 PM
Description:
Rescheduled due to weather:

October 30 until 2 pm
Low cost pet vaccinations provided by Dr. Chester and staff of Animal Medical Clinic Jasper

October 31
*Pet costume contests with prizes
Noon - Small Pet > 45lbs
12:30 PM - Large Pet < 45 lbs
1 PM - Scariest Pet
1:30 PM - Look alike

*Great food

*Raffles and much, much more

________

Vendor Booth Fee: $20 or a product / service raffle donation.
Email Judy Moody today to reserve your booth.
judymvet@gmail.com

________

Blessing of the Animals
by Spirit And Angelic Healing

Pets of all religious backgrounds are invited to bring their humans to The Blessing Of The Animals At PetoberFest!

Individual pet blessings will be given by Minister Jeanne Wells for their health and well being.

This is a celebration to recognize the special roll pets play in our lives.

Monetary donations will be accepted to benefit The Partners Of Pickens Pets and the ministry.