Veterans Day Parade & Program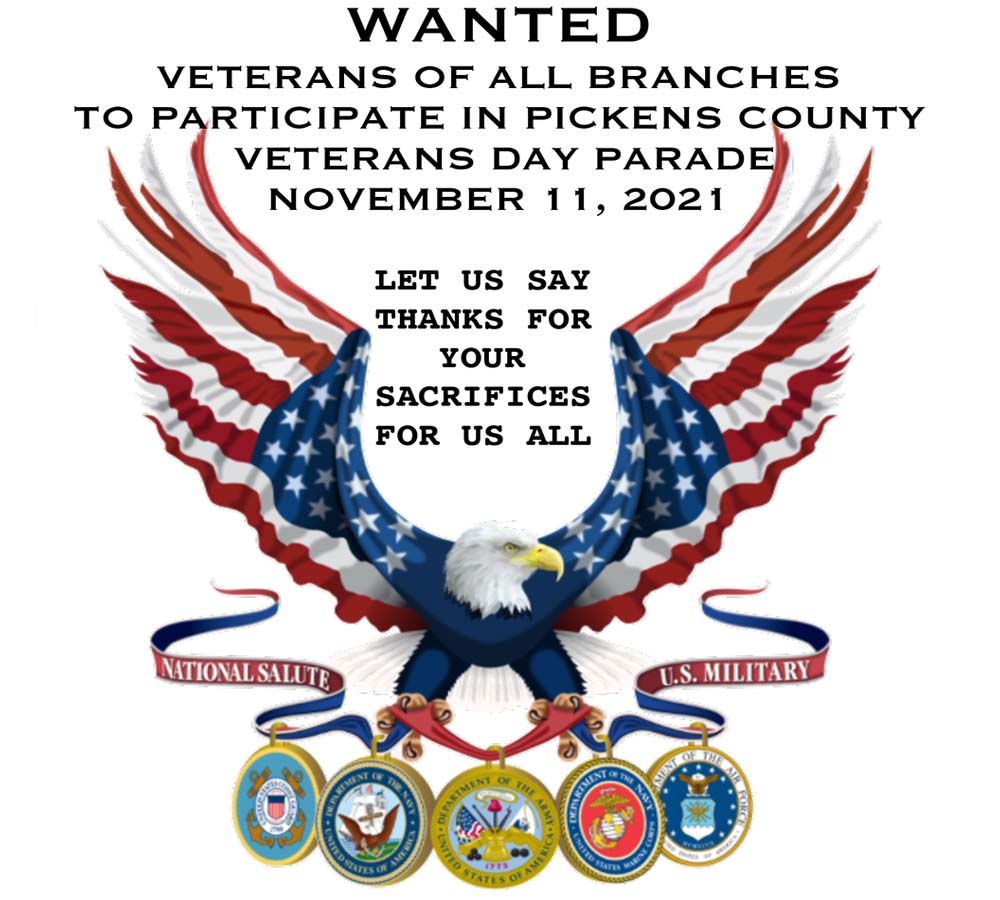 Location:
Parade from Downtown Jasper to Veterans Memorial Park for Program
Start Date:
11/11/2021
Start Time:
10:00 AM
Description:
Parade Grand Marshall, 93-year-old WWII Navy Veteran, Al Lawson

The parade will begin at 10 am going down Main Street and ending at the Veterans Memorial Park.

The American Legion hosted parade is still looking for more participants. There's no entry fee and the only limitation is no political entries or offensive displays. For safety reasons, we ask that candy only be thrown from walkers not moving vehicles. To find out more contact parade coordinator, Steve Whitt at stevewhitt@etcmail.com.

The Veterans Day program will begin once the last parade element arrives at the Veterans Memorial Park. Pickens High Band and Chorus will perform several patriotic pieces before the guest speaker, Mayor of Jasper, Steve Lawrence, also a veteran, gives his address.

Other speakers will include Frank Leist, treasurer of Pickens Veteran Memorial (PCVMP), and Christine Twiss, who will present a quilt of Valor, Ron Wheeler, president of PCVMP, Larry Brown, Vice President of PCVMP and Gerald Faulkner who will give the invocation. Following all speakers, there will be a 21 Gun Salute performed by members of DAV Chapter 47 and TAPS played by Pat Gallagher.