Low Cost Spay & Neuter Certificate Sale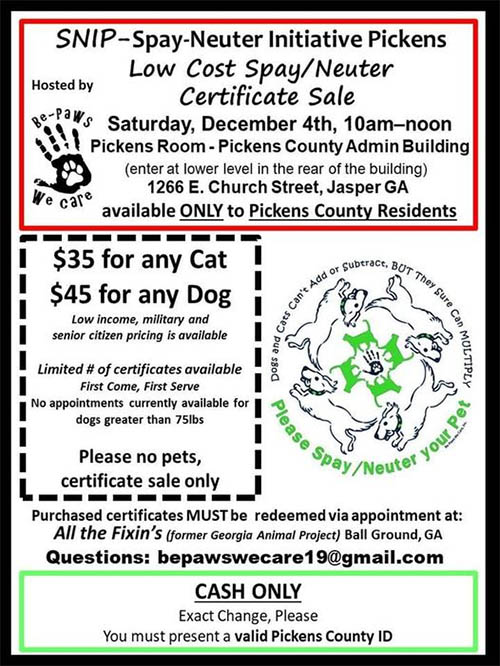 Location:
Pickens County Administrative Building, 1266 E Church St, Jasper, GA 30143
Start Date:
12/4/2021
Start Time:
10:00 AM
End Time:
12:00 PM
Description:
Be-Paws We Care is pleased to offer once again low cost spay & neuter option to our community through our SNIP – Spay-Neuter Initiative Pickens Program. The Low Cost Spay/Neuter Certificate Sale will be on Saturday, December 4th from 10 am to noon at the Pickens County Administration Building, located at 1266 E. Church St in Jasper. Please note that it will be in the Pickens room which is accessed in the rear of the building on the lower level.

LIMITED NUMBER OF CERTIFICATES are available, SO COME EARLY! These certificates are available ONLY to PICKENS COUNTY RESIDENTS and a valid PICKENS County ID is required. Also, NO appointments /Certificates will be available currently for Dogs over 75 lbs. Certificates will be sold for $35 for cats and $45 for dogs. Low Income, Senior citizens over 65, and Veteran pricing is available. Proof will be requested. Only CASH will be accepted and exact change is appreciated.

The certificates (once purchased) are then redeemable by appointment at "All the Fixin's" (formerly Georgia Animal Project) located at 310 Gilmer Ferry Hwy in Ball Ground GA. Please do not bring any animals. This is not a vet clinic. This is a certificate sale only.