Doris Wigington Park Stakehold Meeting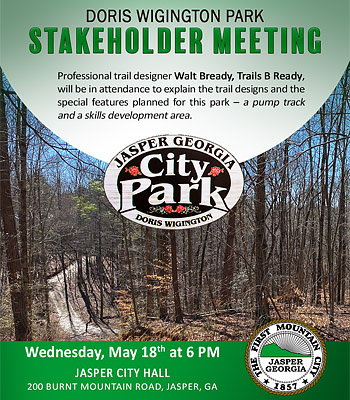 Location:
Jasper City Hall, 200 Burnt Mountain Road, Jasper, GA
Start Date:
5/18/2022
Start Time:
6:00 PM
End Time:
6:00 AM
Description:
Stakeholder meeting for the new trails planned at Doris Wigington Park on Wednesday, May 18th at 6 pm at Jasper City Hall.

Professional trail designer Walt Bready, Trails B Ready, will be in attendance to explain the trail designs and the special features planned for this park – a pump track and a skills development area.

The goal is to provide to the community a family friendly park with mainly a beginner to somewhat intermediate level trail system that encourages the development of mountain biking skills with some very special areas in the park that currently aren't available anywhere else in our region. There will also be some areas left "green" and natural for birding, regular hiking, possibly cross-country running groups/events, etc.