Tater Patch Players 'Nunsense Jamboree'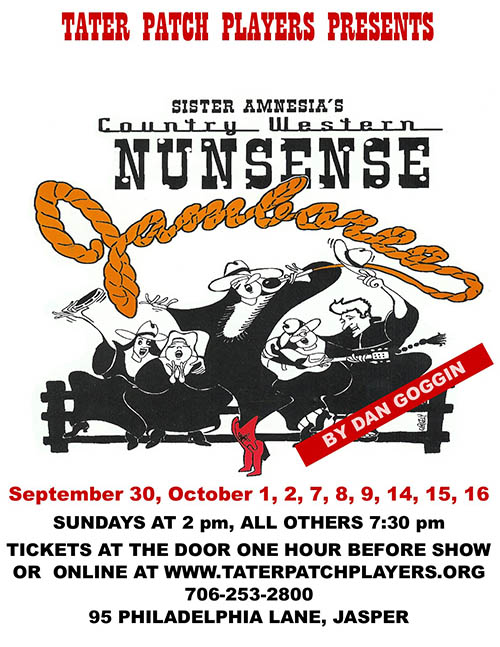 Location:
Tater Patch Players Theater, 95 Philadelphia Lane, Jasper, GA
Start Date:
10/7/2022
Start Time:
7:30 PM
End Date:
10/8/2022
Description:
Nunsense: Jamboree by Dan Goggins is show is a tribute to Hee-Haw, mixed with Laugh-In, mixed with every corny joke you ever heard.

The cast consists of Deb Grecol, Nancy Loy, Alex Nawrocki, Sue Ellen Reitz, and Phyllis Zerkle. The four Sisters and the Father are all getting ready to make every laugh line tickle your funny
bone

Performance dates are September 29 (Share Night), 30 (Opening), and October 1, 2, 7, 8, 9, 14, 15 & 16. The Sunday shows are 2 PM matinees and the others are at 7:30 PM. Tickets may be bought at anytime online at www.taterpatchplayers.org or at the theater box office beginning one hour before each performance.

Tickets:
$20 - Adult
$16 - Student
$18 - Senior
Tickets/Signup:
Please email at taterpatchplayers@gmail.com or call 706-253-2800 with any questions.